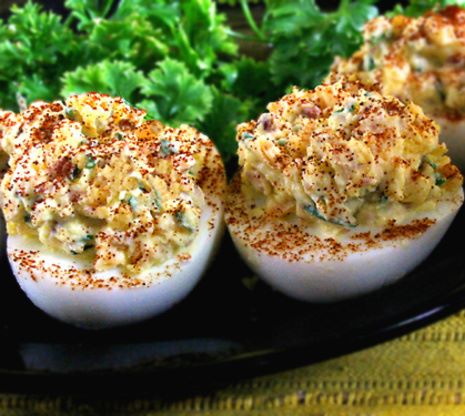 My children and husband go nuts over these. I made them for a potluck at work and have been asked for them ever since. (If you can keep people out of them, you're doing better than I ever could.) The time that I spend prepping this depends on how fast you shell your eggs. I have two girls so we knock this out in about 30 minutes (minus cooking time).
I love this recipe I made it with real bacon crumbled and added a bit of old Bay and sweet relish to it and it was banging! thought about next time adding some diced jalepenos to spice it up a bit but that's just personal preference.
large eggs (hard-boiled, cooled & halved)
6 slices bacon (cooked crisp & crumbled)
2 teaspoons fresh chives
2 teaspoons white vinegar
2 tablespoons finely shredded mild cheddar cheese
1⁄4 cup sour cream or 1⁄4 cup buttermilk
paprika
DIRECTIONS
Transfer egg yolks from halves to mixing bowl & combine with remaining ingredients.
Add the sour cream or buttermilk last & use more as needed to reach desired smoothness.
Spoon yolk mixture into halves. The bulk will have grown substantially, so pile it high & "dust" with a sprinkle of paprika.