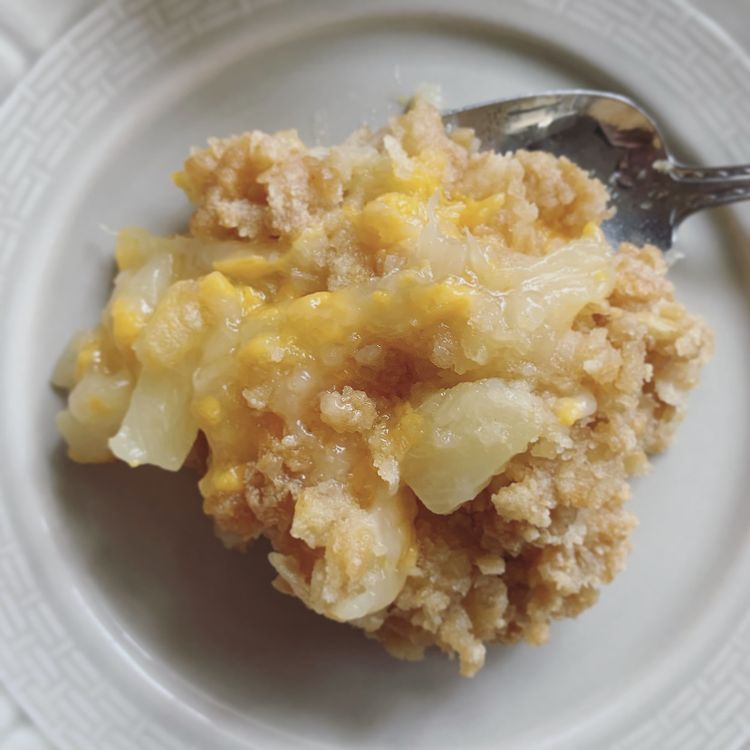 If any region has perfected the art of casserole making, it's the South. Wedding, funeral, anniversary, birthday, you name it – there's a casserole for every occasion. While the pineapple casserole is a little more obscure, it certainly deserves a spot on the dining room table – and you'll find it on Southern Easter tables without fail. The combination of canned pineapple chunks, Cheddar cheese, and a crispy Ritz cracker crust may sound a little bizarre, but it's surprisingly tasty! The unique flavors are enough to impress even the choosiest casserole connoisseur. And, it's so easy to make. Eating this dish will give you the ideal fix of sweet and salty, and we guarantee your first bite won't be your last. Give the scrumptious pineapple casserole a try; you won't regret it!
Ingredients
(2) 20 oz. cans pineapple chunks, drained reserving the juice.
1 C. sugar
6 T. all purpose flour
2 C. shredded sharp cheddar cheese
2 C. crushed ritz crackers
Directions
1 stick unsalted butter, melted (if you are afraid to use a whole stick, I have made it with a half stick on occasion, which works fine, but a whole stick just makes it extra tasty)
In a bowl, combine the flour and sugar. Stir in the cheese and the drained pineapple. Stir until all ingredients are well combined. Pour into a 2 quart casserole dish, lightly greased. Combine the crackers, butter and 6 T. of the reserved juice. Spread over the top of the pineapple mixture. Place in a 350 degree oven and bake for 25-30 minutes, or until golden brown on top.