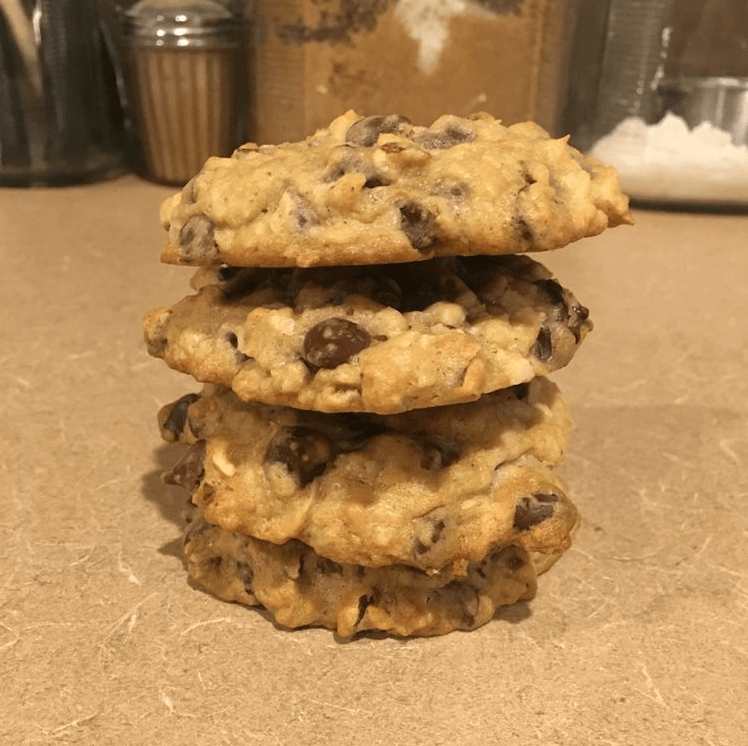 If you like coconut, you're in for a treat today! These easy-to-bake cookies contain only four ingredients and don't even need a blender! No beating, no refrigeration, just mix and bake EASILY! You'll love these fabulous sticky, oily cookies!
I have a great coconut lover in my life – my father. He loves everything made with coconuts: coconut cream pie, coconut macaroons, magic raspberry and coconut bars, and especially these easy to make almond cookies. These cookies are incredibly easy to prepare and bake to perfection.
So no flour, no eggs, no butter… what the hell is in these cookies, you ask? Chocolate chips, coconut, almonds and sweetened condensed milk – that's it! I put them on a baking sheet lined with baking paper and let them stand for 12 to 14 minutes. When the bottom of the cookies turns golden brown and you can see part of the coconut with brown tips, it's time to remove them!
After removing the cookies with my cookie scoop, I wet my fingertips and shape the cookies into the shape of a disk. The cookies have the same shape at the entrance and exit, so it's up to you!
If you like coconut, you just have to try them! See how easy they are to make!
Ingredients
1 cup of butter
1 1/2 cups white sugar
1 1/2 cups brown sugar
4 eggs
3 teaspoons of vanilla
4 1/2 cups of flour
2 teaspoons baking soda
1 teaspoon of salt
5 cups of chocolate chips
2 cups of sweet coconut
2 cups chopped almonds
Itinerary
Preheat oven to 375°F. Lightly grease cookie sheets.
Mix dry ingredients, set aside.
In a large bowl, cream butter and sugars together. Beat in the eggs, one at a time, and stir in the vanilla. Stir in dry ingredients until well blended, then stir in chocolate chips, coconut and almonds. Place round tablespoons on prepared cookie sheets.
Bake in the oven for 8 to 10 minutes. Let cool on the baking sheet for 5 minutes before placing them on a rack to cool completely.
Source: bestfoodtips.net