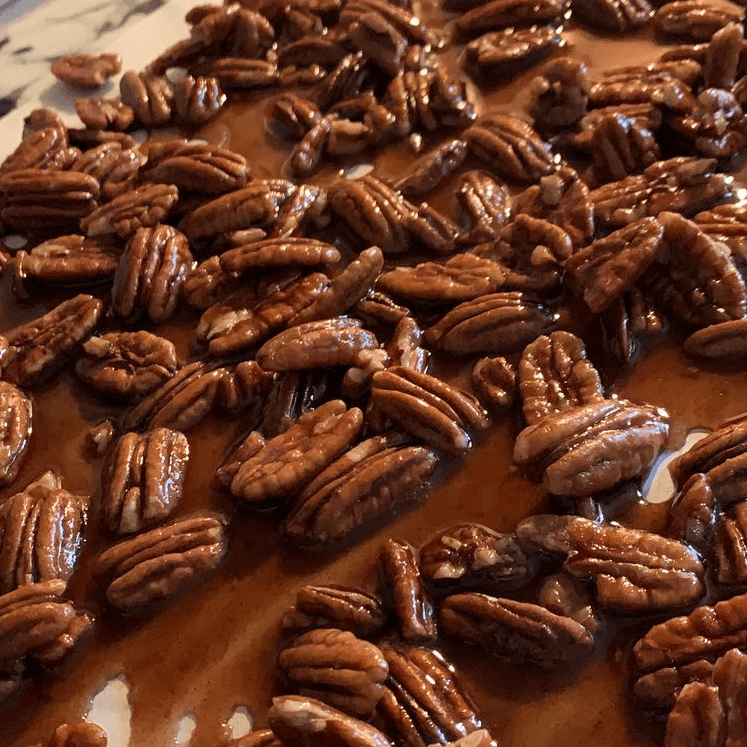 These 5-minute candied pecans are a quick and easy way to make sweet glazed pecans for salads, snacks, food gifts, and more!
Whether you eat these pecans on their own or add them to a variety of dishes, they are such an easy way to add flavour and texture to so many recipes.
Most of the candied pecan recipes I've seen involve baking them in the oven, but something about this seems a little too complicated and time consuming.
I've been making candied pecans on the stove for as long as I can remember and it only takes me 5 minutes to make them. It's so easy!
I like not having to turn on the oven, especially when I only want to make a small amount. I try not to keep too many on hand because they are so good that I want to eat them all, haha.
Ingredients
2 tablespoons brown sugar, well packed
2 teaspoons of butter
2 teaspoons light corn syrup
1/8 teaspoon of salt
1 cup pecan halves
Directions
Combine brown sugar, butter, corn syrup and salt in a large skillet.
Stir over medium heat until butter is melted.
Add pecans and cook, stirring constantly for 5 to 7 minutes. Make sure that the pecans are all evenly coated.
Spread pecans in a single layer on parchment paper and let cool completely.