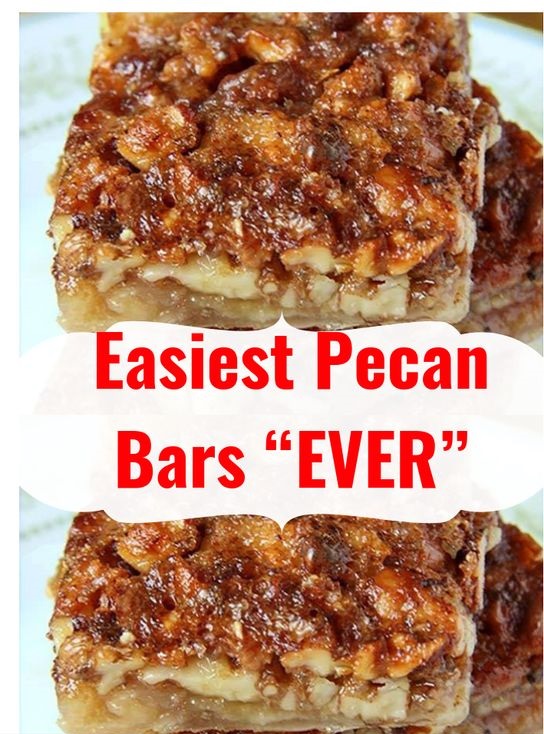 I had to halve the recipe because I didn't have enough ingredients in the house – they still turned out to be excellent. I threw in a few handfuls of butterscotch chips with the milk chocolate on top – super decadent. I served these chips straight from the fridge because we liked the texture of the cold chocolate and the crunchy pecans with the butter crust – I can't wait to make a second (and full) batch! Thanks for the recipe!
When my friends tasted these bars, I watched them stagger a little and then close my eyes in blissful delight. "There should be a law against these things," lamented one guy. The recipe is surprisingly easy and quick to make…always a plus…and they do a lot, if you cut them into 1 1/2 inch pieces. I think my oven must have been hotter than I thought it would be because the crust has browned faster than the recipe indicated and has become firmer than I expected, making it difficult to cut the cooled bars. But despite my difficulties, the taste was delicious, a mix between a cookie and a piece of chocolate toffee. I will definitely do these treats again!
2 cups all-purpose flour
1 cup packed brown sugar
3⁄4 cup cold butter
1 1⁄2 cups chopped pecans
1 (12 ounce) jar caramel ice cream topping, warmed
1 (11 1/2 ounce) package milk chocolate chips
Preheat oven to 350 degrees F. Combine flour and brown sugar in a bowl; cut in butter until crumbly. Press into bottom of an ungreased 13x9x2 inch baking pan. Top with pecans; drizzle warmed caramel topping evenly over pecans. Bake at 350 degrees F. for 15-20 minutes or until caramel is bubbly. Place on wire rack. Sprinkle with chocolate chips; let stand 5 minutes, then spread chocolate chips over caramel-pecan layer. Cool for at least 6 hours at room temperature or until chocolate has set (chilling may cause chocolate to appear dull). Cut into bars. Enjoy.