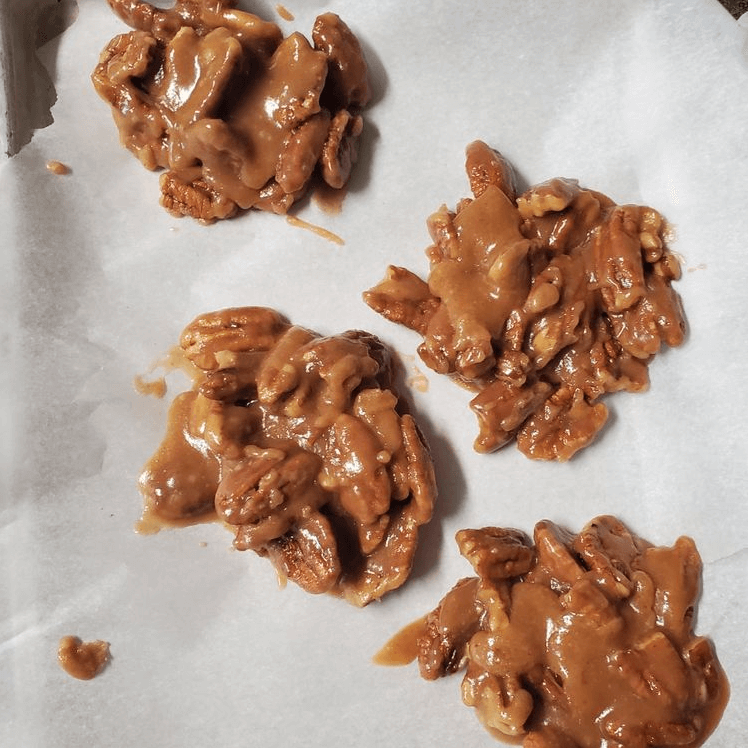 Had these in New Orleans and loved them, so I tried different combos and liked this best.
These pralines were awesome! A word of caution to anyone who is not familiar with candy making: when your mixture has reached the desired consistency/temperature, remove from heat and transfer hot pan to an ice bath.
I read a lot of the recipes and reviews and combined a lot of ides for this…and here's some useful info. Iused 2 cups pecans – both chopped and whole.
This recipe was excellent and very similar to the Pralines at River Street Sweets in Savannah, GA. I did not toast my pecans. The best outcome seemed to depend on when I poured them out on the cookie sheet.
INGREDIENTS
2 cups pecans
1 cup brown sugar
1 cup granulated sugar
⅓ cup unsalted butter
½ cup evaporated milk
1 teaspoon kosher salt
1 teaspoon maple extract
1 teaspoon bourbon whiskey extract or 1 tablespoon bourbon
PREPARATION
Line a baking sheet with parchment paper. Coat lightly with cooking spray. Set aside.
Lightly toast pecans in a dry pan until fragrant. Remove from heat and set aside.
Combine brown sugar, granulated sugar, evaporated milk, and salt in a large saucepan over medium heat. Stir frequently until mixture becomes thick and creamy.
Add butter and toasted pecans, maple extract, and bourbon extract to the saucepan and stir frequently until butter is melted and mixture has thickened.
Cool mixture slightly, about 5 minutes, before scooping out a heaping tablespoon of the praline mixture. Drop a spoonful of mixture onto prepared baking sheet. Leave space between each as candy will spread slightly as it cools.
Cool completely before serving.