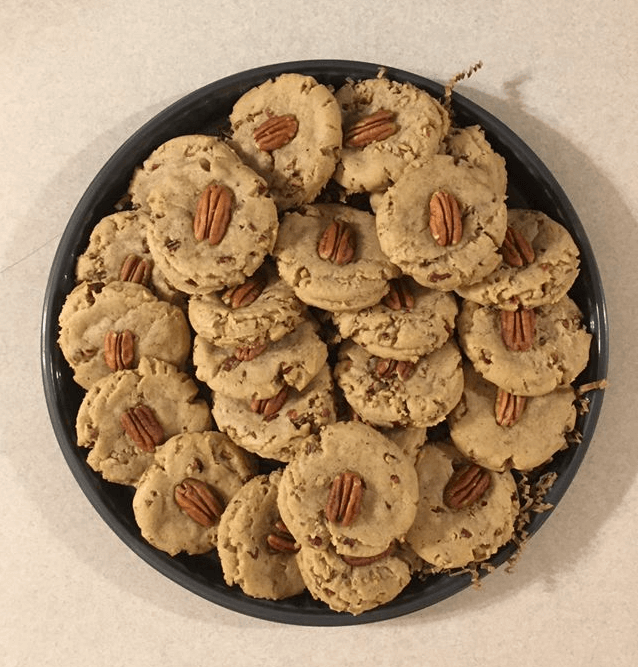 Buttery, soft 'n chewy cookies exploding with toasted pecans and brown sugar flavor.
Maybe it's just me, but I think butter pecan is an underrated ice cream flavor. Quite often overlooked and running with the "boring" pistachio and rum raisin ice cream crowd. For the record, I love all three of these ice cream flavors! And that's exactly why I made today's cookie recipe. They're salty, they're sweet, and they're rich with butter flavor.
If it's not their chewy edges, soft centers, and buttery flavor– it's the toasted pecans that make these cookies so incredible. The toasty, nutty flavor of these pecans is crucial to their flavor. If you've never toasted nuts before adding them to a recipe, you are missing out. The flavor is 84573849% better. I actually did the calculation yesterday; it's really that much better.
1 cup of pecans, chopped
7 tbsp of butter, unsalted
1/3 cup of granulated sugar
1 cup of brown sugar
2 eggs
1 tbsp pure vanilla extract
2 cups all-purpose flour
1/2 tsp. baking soda
a pinch of salt
Pecan halves for the top of each cookie
Make sure to preheat your oven to 350º and line 2 baking sheets with parchment paper.
Then beat butter, granulated sugar, and brown sugar with an electric mixer, until light and creamy.
Next, add eggs, vanilla extract, and beat again for an additional 2 minutes. Immediately add flour, baking soda, salt, and mix until just combined
When finished, scoop balls, using a medium cookie scoop onto prepared baking sheets and add a pecan half to the top of each cookie. Bake until golden brown, about 10 to 15 minutes. Finally, cool cookies on a wire rack.