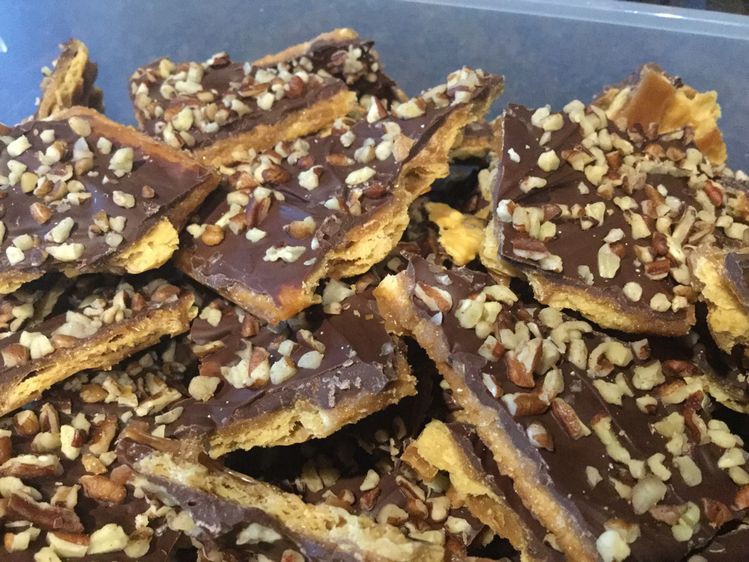 This is an easy to make but wonderfully delicious treat. We pack them in tins and give as gifts during the holidays. Use your favorite nuts to top the cookies.
Wow! I was surprised at how good these are! Some tips: I used an 11×17″ jelly pan. Line the bottom & sides with foil & lightly spray the foil with non-stick spray. Generally, sticking is not a problem but I did have a problem with the foil stuck in the toffee where I had a seam in the foil. (I probably should have folded the two pieces of foil together instead of just overlapping them.) DO NOT use a pan with no sides. You don't want this stuff boiling all over in your oven. Feel free to cover the entire bottom with saltines. (If you use only the 4oz package, they will spread throughout the whole pan anyway as they boil in the oven.) Also, before you start timing the 3 minute boil, make sure it's truly boiling. Start timing once you see bubbling foam all around the edges. When you pour the boiled sugar mixture, don't worry about getting every section of the salines covered. Once you put it in the oven, it boils like crazy so the entire cracker gets covered. Finally, I think the milk chocolate chips would have been better than semi-sweet. (I love Swiss Colony toffee!) This is almost as good except I get to take credit for it!
INGREDIENTS
4 ounces saltine crackers
1 cup butter
1 cup dark brown sugar
2 cups semisweet chocolate chips
¾ cup chopped pecans
INSTRUCTIONS
Step 1
Preheat oven to 400 degrees F (205 degrees C).
Step 2
Line cookie sheet with saltine crackers in single layer.
Step 3
In a saucepan combine the sugar and the butter. Bring to a boil and boil for 3 minutes. Immediately pour over saltines and spread t cover crackers completely.
Step 4
Bake at 400 degrees F (205 degrees C) for 5 to 6 minutes. Remove from oven and sprinkle chocolate chips over the top. Let sit for 5 minutes. Spread melted chocolate and top with chopped nuts. Cool completely and break into pieces.
Nutrition Facts
Per Serving:
150.2 calories; protein 1.3g 3% DV; carbohydrates 15g 5% DV; fat 10.2g 16% DV; cholesterol 13.9mg 5% DV; sodium 73.4mg 3% DV.