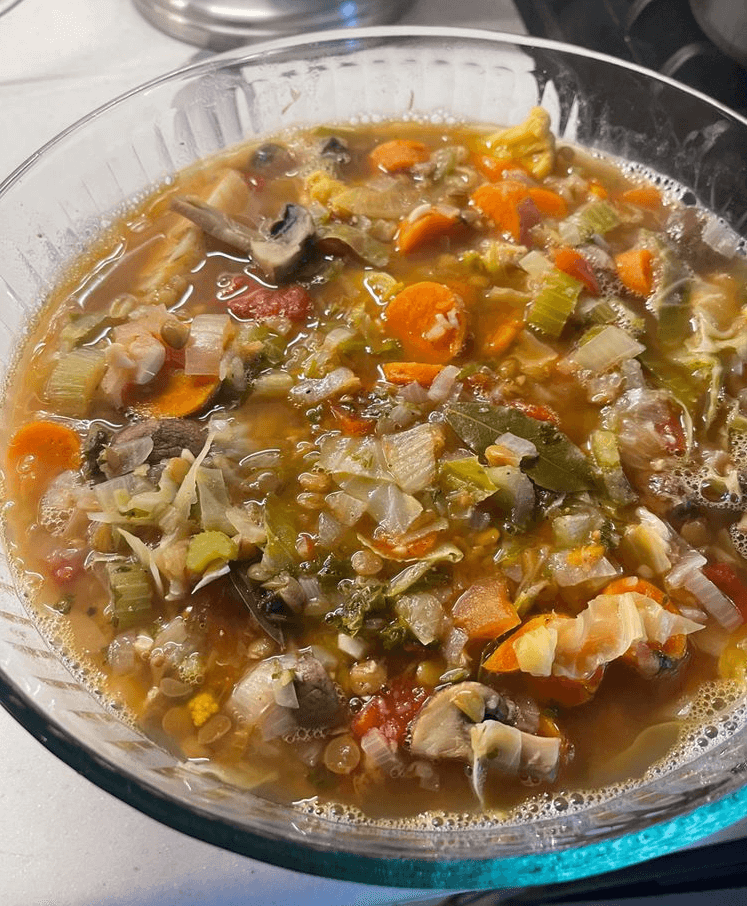 Vegetable Soup is hearty and savory, full of nourishing veggies like tomatoes, corn, green beans, celery, and potatoes, ready in under 45 minutes!
Vegetable Soup is the PERFECT dish for a cold day, made with hearty potatoes and corn, green beans, celery, carrots, and onions in a seasoned chicken broth.
I can honestly say that this is one of my favorite soup recipes of all time. I like to serve this with toasted garlic bread, a side salad, and some cheddar or parmesan cheese on top.
This vegetable soup recipe is really versatile. You can use whatever veggies that are in season, or this is a great recipe to use up leftover veggies from the night before. I've also made this using Italian seasoning or oregano, parsley, and thyme with various different types of broth before with a lot of success.
Ingredients
2 Tbsp olive oil
1 1/2 cups chopped yellow onion (1 medium)
2 cups peeled and chopped carrots (about 5)
1 1/4 cups chopped celery (about 3)
4 cloves garlic , minced
4 (14.5 oz) cans low-sodium chicken broth or vegetable broth
2 (14.5 oz) cans diced tomatoes (undrained)
3 cups peeled and 1/2-inch thick diced potatoes (from about 3 medium)
1/3 cup chopped fresh parsley
2 bay leaves
1/2 tsp dried thyme
Salt and freshly ground black pepper
1 1/2 cups chopped frozen or fresh green beans
1 1/4 cups frozen or fresh corn
1 cup frozen or fresh peas
Instructions
Heat olive oil in a large pot over medium-high heat. Add onions, carrots, and celery and saute 4 minutes then add garlic and saute 30 seconds longer.
Add in broth tomatoes, potatoes, parsley, bay leaves, thyme and season with salt and pepper to taste*. Bring to a boil, then add green beans.
Reduce heat to medium-low, cover and simmer until potatoes are almost fully tender, about 20 – 30 minutes. Add corn and peas and cook 5 minutes longer. Serve warm.
Recipe Notes
*For more flavor add in more dried herbs as desired. Other good herbs to add include basil, oregano, marjoram, or Italian seasoning. Servings: 8 servings