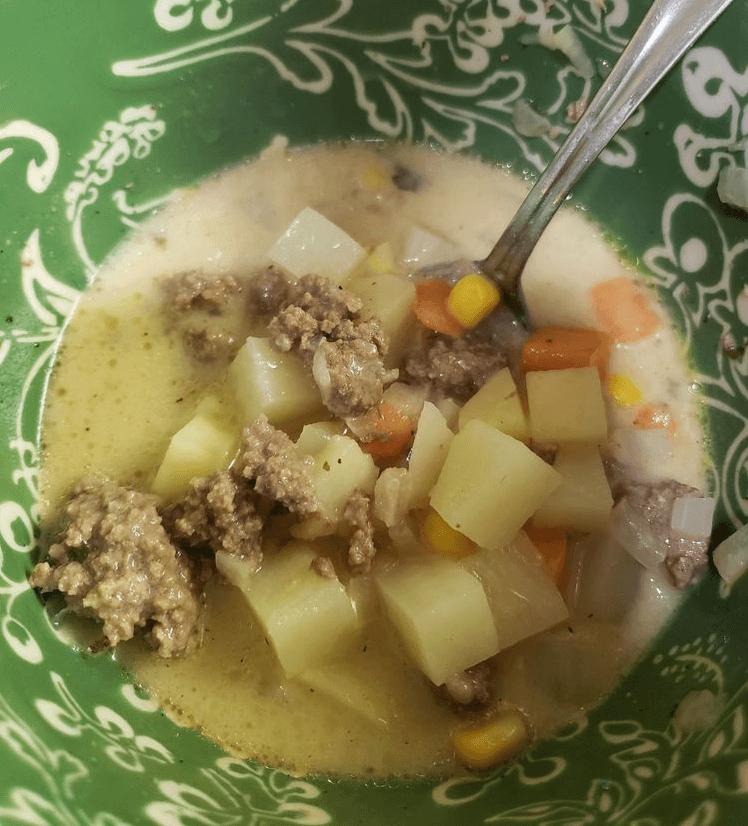 I swear most of my soups are made because I have something in my freezer, fridge and pantry that I need to use. I was desperately trying to run out of potatoes before I went to the States for Christmas, I had ground beef in my freezer and always those frozen vegetables. This creamy potato and hamburger soup is the result of cleaning out my freezer and pantry. Making hamburger soup is simple.
First, you fry the ground meat mixture until it is cooked, then you put it in a slow cooker or crock pot.
Then you add all the vegetables and spices (NOT dairy!) and cook for hours in the slow cooker, breaking down the ground beef into a softer meat and the potatoes into a smooth velvety smooth.
Ingredients
1 1/2 pound of lean ground beef
1 medium white onion, peeled and diced
1 large clove of garlic, chopped
6 cups chicken broth
6 cups of peeled and diced Russet potatoes
2 cups of your favourite frozen vegetable mix
3 teaspoons of dried basil
2 teaspoons of dried parsley flakes
1 1/2 cups of milk
2 tablespoons cornstarch
8 ounces of cubed Velveeta cheese
Instructions
In a large skillet, fry ground beef and onions until onions are tender and ground beef is browned. Drain off the fat.
Sauté garlic until brown and fragrant. Add the beef mixture to the slow cooker or stovetop pot.
Add the potatoes, broth, vegetables, basil and parsley.
Cook in the slow cooker over low heat for 6 to 8 hours, over high heat for 3 to 4 hours, or simmer over the heat until the potatoes are tender and begin to dissolve on sight.
Whisk the cornstarch into the milk and then into the soup. Add the Velveeta and let it melt, stirring occasionally. When it is completely melted, spoon it into bowls and serve.