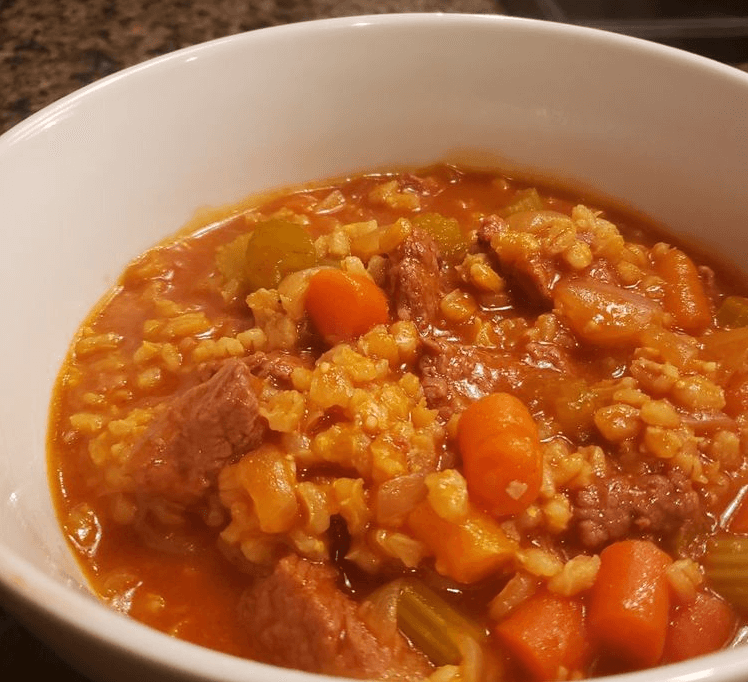 This Hearty Beef Barley Soup is a restaurant-worthy, absolutely delicious, easy-to-make and filling meal. Made with only 8 ingredients, less than 30 minutes of active cooking time, and minimal cleanup, it will feed the whole family!
I cook this Hearty Beef Barley Soup every single week during the winter months. It is my family's absolute favorite soup. It is rich, flavorful, and healthy, and I bet you'll be making it often once you give it a try. Seriously, it is just incredibly delicious!
I like making it a bit thick, with an almost stew-like consistency, but it is totally okay to add some extra broth to thin it out. You can use beef or chicken broth in this recipe with great results.
Now let's take a minute and talk about barley.
INGREDIENTS
1 1/2 lb. boneless chuck roast, cut into small cubes
3 tbsp olive oil
4 medium carrots, peeled and diced
1 large onion, peeled and diced
3 garlic cloves (minced)
1 cup pearl barley (or hulled barley)
2 tbsp tomato paste
8 cups beef or chicken broth
1 tsp dried thyme
salt and pepper to taste
INSTRUCTIONS
Heat up a large pot on high heat. Add the olive oil and beef. Cook, stirring occasionally, for about 10 minutes, until the liquids evaporate and the beef starts to brown.
Reduce heat to medium and add onion, carrots, and garlic. Cook for about 5 minutes.
Add the tomato paste, thyme, salt, and pepper and mix everything well. Add the barley and beef (or chicken) broth. Reduce the heat to medium low, and cook until the beef is very tender, for about 1 1/2 hours. Note: add extra broth if you'd like to thin out the soup a bit more.