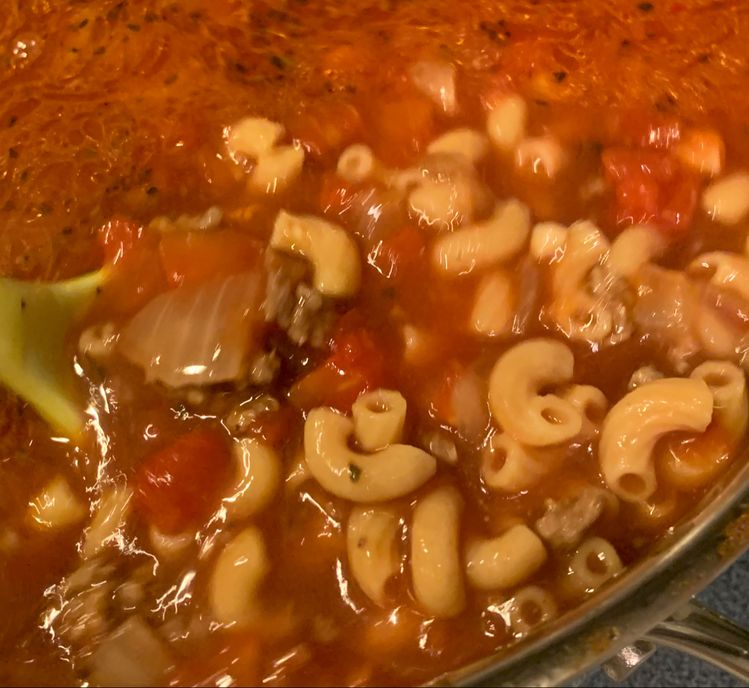 If you're looking for a soup that's as comfortable as possible, yet as nourishing and delicious, look no further than beef and macaroni. I remember loving this soup as a child, even though I pretended to hate all soup at the time. But thanks to its taste of tomato and tender macaroni, it is the kind of soup that children seem to be unable to resist . But this is true for children of all ages, from two years old to one hundred and two years old.
Don't worry, it's not the kind of soup that you have to simmer all day to get the best flavour. No. It takes about 30 minutes to make, and it's a simple and straightforward process without a ton of ingredients.
You start with onion, garlic and ground beef and sauté it in a pot?
… then simmer in a mixture of beef broth, diced tomatoes, tomato sauce, brown sugar, Worcestershire sauce, basil, oregano, thyme and bay leaves. Simmer until the mixture thickens a little and the flavours blend, about 10 minutes.
INGREDIENTS
1 tablespoon of olive oil
1 small white onion, diced
3 cloves of garlic, chopped
1 pound of ground beef
3 cups of beef broth
1 can of diced tomatoes
1 can of tomato sauce
2 tablespoons of brown sugar
1 tablespoon Worcestershire sauce
1 teaspoon of dried basil
1 teaspoon dried oregano
1 teaspoon dried thyme
2 bay leaves
2 cups of macaroni at the elbow
PREPARATION
In a large saucepan, heat the oil over medium heat. Add the onion and cook until tender and translucent, about 5 minutes. Add the garlic and cook for another 1 minute.
Add the ground beef and season with salt and pepper. Cook until no longer pink. Drain off excess fat, if necessary.
Stir in beef stock, diced tomatoes, tomato sauce, sugar, Worcestershire sauce, basil, oregano, thyme and bay leaves.
Bring to a boil, reduce to a simmer and cook for 10 minutes. Stir in macaroni and continue to simmer until pasta is tender, about 10 minutes longer.
Adjust seasoning as needed and enjoy!