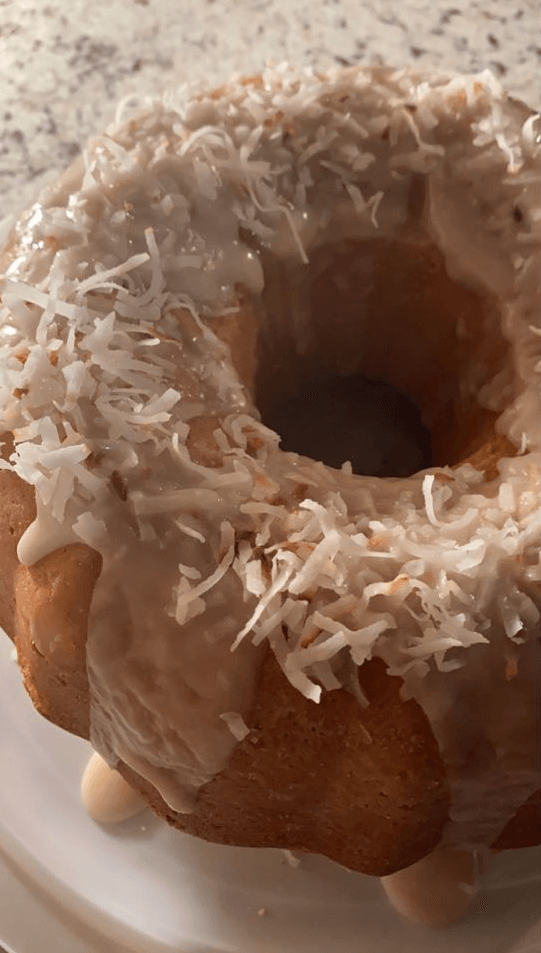 Reviews :
– This is just like my grandmother's cake with a few exceptions – her recipe calls for crisco instead of butter, buttermilk in place of the milk, more coconut extract (a tablespoon), and no nuts in the glaze. Instead, you poke holes all in the cake with a toothpick and pour the glaze on top of the cake so that as much of the glaze as possible is absorbed into the cake instead of sitting on the botth of the dish doing it this way makes the cake supermoist and flavorful! Excellent!!
– GREAT cake! I did make some modifications to the glaze. 1/4 c. coconut rum 2 T. Butter 1 c. sugar Pour half of the glaze back into the bundt pan, put the cake back in the pan. Pour the remaining glaze over the bottom and sides of the cake. Let the cake sit in the pan for fifteen minutes or so to let the glaze soak in…invert on serving plate and VOILA….perfectly glazed cake without a ton of excess on the serving platter!
-Joann, I made this in my large round cake pan, I just kept an eye on it, I had to bake mine a little longer but my oven was not acurate at that time, it came out great. I would think you could actually make it in any pan of your choice, you will love it , it's delicious 8
-wo sticks of butter equals one cup. Some butter wrappers show the tablespoon markings. One stick has 8 tablespoons. 8 tablespoons equals 1/2 cup. Have fun. This is a great cake. Substitute 2/3 cup melted coconut oil for the Crisco and you will have a healthier and tastier cake, too.
-This is a rather dense cake. It seemed to me to be the kind you would take to a Bridge party and have with your tea. I took it to a Memorial for a dear friend. Despite there being a lot of great food, this cake went fairly quickly.
-I am a lover of coconut oil. Becoming a healthy alternative & Is absolutely fabulous to cook with. Would it be ok to use coconut oil in place of the crisco do you think ?
Cook time: 1 Hr Prep time: 25 Min Serves: 12
Ingredients
2/3 c crisco
2 stick butter or maragine
3 c white sugar
3 c all-purpose flour
5 large eggs
1 c milk, whole
1/2 tsp baking powder
1-1 1/2 c coconut, shredded
2 tsp coconut extract
Directions
1. Cream butter, Crisco and sugar. Add eggs one at a time beating well after each. Add coconut flavoring. Sift flour and add baking powder. Alternate adding flour and milk to sugar mixture. Add coconut. Spray tube pan with Crisco no stick spray with flour. Bake @325-350 for 1 hr to 1 hr 15 minutes. Cool in pan for 10 minutes turn on cooling rack.
2. Note: You can make a glaze of powdered sugar, milk and small amount of coconut flavoring.
Last Step: Don't forget to share!