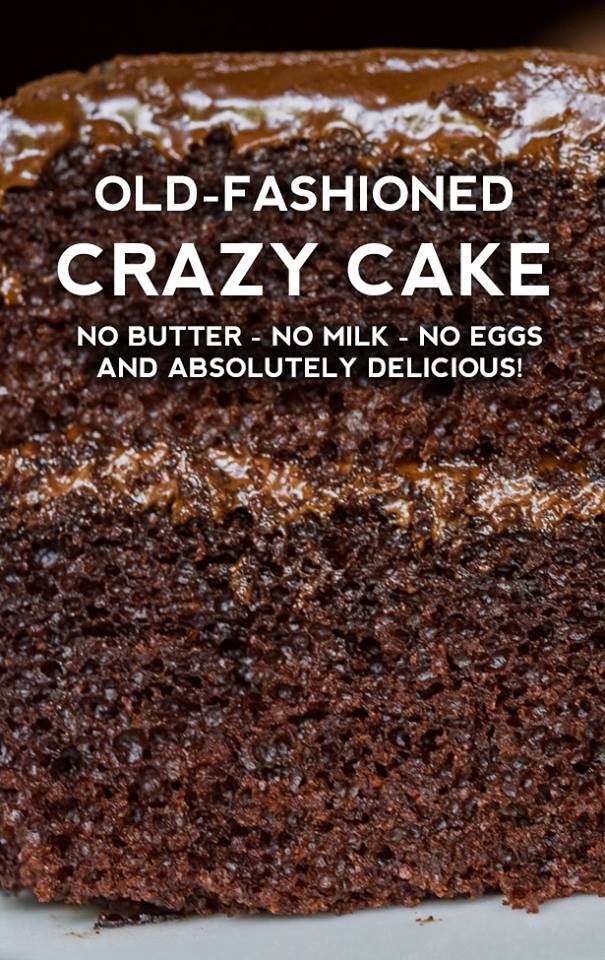 For so many people, the Great Depression was a time of hardship and of scarcity. But it was also a time of great ingenuity and creativity. People had to make do with what they had to get food on the table, and expensive ingredients like butter, milk, and eggs were sometimes impossible to come by. Out of necessity, resourceful homemakers created recipes like this Crazy Cake which uses no milk, butter, or eggs at all. Because no matter how hard times get, there are still birthday songs to be sung and celebrations to be had. And what would those celebrations be without a tasty and moist chocolate cake?
This cake is so fluffy you wouldn't believe that there aren't any eggs in it, and that's because of the vinegar and baking soda. They work together to bubble up and lift that cake right up, which was a common trick during the Great Depression. Originally, this cake might have been made with lard instead of vegetable oil and while we've included a frosting recipe that uses butter, this cake is delicious without it if you'd like to keep things traditional!
Traditionally, a Crazy Cake is mixed up right in the baking pan. You add your dry ingredients to the pan first and create three wells in the flour mixture. Then, you would add vanilla in one well, oil in the other, and vinegar in the third. You would then pour the coffee and water over the entire thing and quickly mix it up in the pan for a quick and easy, delicious one dish cake. We've opted to divide ours into two round baking pans for a special two-layer cake this time around.
Crazy Cake, and inventive recipes like it, show us just how clever and creative the homemakers that came before us were. With little to spare, and sometimes little to be had, they created absolute magic in the kitchen. This Crazy Cake is just so good. Just because it's frugal doesn't mean it's not fantastic!
INGREDIENTS
Cake:
2 cups all-purpose flour
1 1/4 cups sugar
1 1/4 cups water
1/2 cup vegetable oil
1/3 cup unsweetened cocoa powder
1 tablespoon white vinegar
1 tablespoon brewed coffee, optional
1 1/2 teaspoons vanilla extract
1 1/2 teaspoons baking soda
3/4 teaspoon salt
Frosting:
2 1/2-3 cups powdered sugar
1 cup unsweetened cocoa
1/3 cup water
1/4 cup (1/2 stick) unsalted butter, room temperature
1 teaspoon vanilla extract
1 pinch salt
PREPARATION
Preheat oven to 375°F and lightly grease two 9-inch cake pans with butter or non-stick spray.
Whisk together flour, sugar, cocoa powder, baking soda, and salt in a large bowl, then whisk in water, oil, vinegar, coffee, and vanilla.
Stir until no lumps remain, then pour mixture evenly into greased cake pans.
Place in oven and bake for 24-26 minutes, or until toothpick inserted in center comes out clean.
While cake bakes, make frosting by whisking together powdered sugar, cocoa powder, and salt in a large bowl or mixer.
Add water, softened butter and vanilla extract, and beat together until smooth and creamy. Add more sugar for a thicker frosting and more water for a thinner frosting.
Remove cake from oven and let cool before frosting.