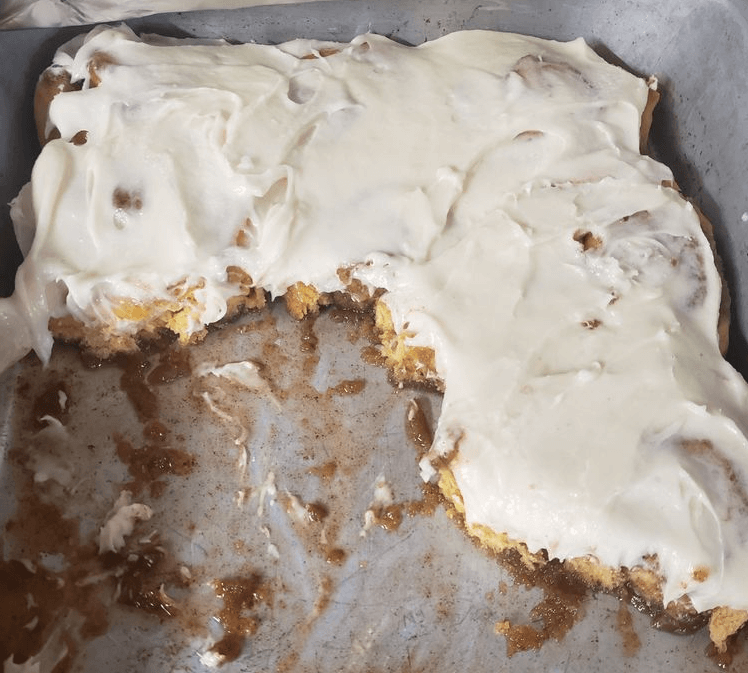 Oh My Goodness!! I will never make homemade cinnamon rolls again. This cake is so super moist and gooey and it is better than any cinnamon roll i have ever had. I am not taking the credit for this one..I got the recipe of another site. It called for a plain glaze but we love cream cheese . Its so yummy warm ..after it cools i would recommend heating it up a few seconds but its is fine at room temp. This great for breakfast or a dessert.
The cake was too dense. It wasn't what I was expecting and I think the lack of bs/bp had a lot to do with it.
just made this and OH MY GOD its sooo good will be making this again. it hits that sweet but want cinnamon bun spot
Cook time: 30 Min | Prep time: 30 Min
INGREDIENTS
3 c all purpose flour
1/4 tsp salt
1 c sugar
1 1/2 c milk
2 eggs
1 stick melted butter
TOPPING
2 stick butter, room temperature
1 c brown sugar, firmly packed
2 Tbsp flour
1 Tbsp cinnamon
CREAM CHEESE GLAZE
4 oz cream cheese, room temperature
1- 11/2 c powdered sugar
1 tsp vanilla
4-6 Tbsp milk ( depending on how thick you like your glaze)
INSTRUCTIONS
1. Preheat oven to 350 Spray a 9×13 pan with bakers joy
2. Begin by beating all of the cake ingredients together except the melted butter. Slowly add melted butter last. when blended well pour in prepared pan
3. Mix all of the topping ingredients together with a beater. it was cold when i did this so i threw my butter in the microwave for 10seconds and it worked well.
4. With a tablespoon drop the topping in small mounds all over the cake. With a butter knife swirl this mixture or marble. Careful not to scrap the bottom of the pan. You want to marbled well.
5. Bake in a 350 degree oven for 30 -35 min
6. Remove from the oven Mix the glaze together getting the consistency you desire Pour glaze over slightly warm cake. I allowed my cake to cool for about 30min