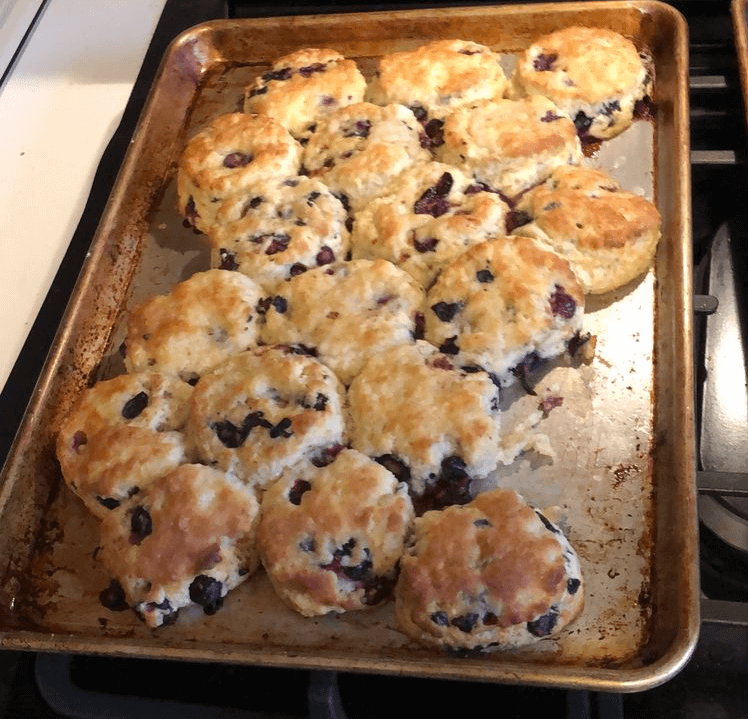 Based on my basic buttermilk cookie recipe (as found in my recipe box), these few additions have taken this recipe to new delicious heights!
Ingredients :
Cookies
2 cups of all-purpose flour (I used White Lily, a flour available in most southern stores)
1 Tb. of baking powder
1 1/2 teaspoon of salt
3 Tb. of sugar
1 stick of unsalted butter (VERY cold)
3/4 cup buttermilk (use enough of it until the dough is barely moist enough)
1 c. frozen blueberries (we used fresh blueberries that had been frozen overnight)
1/2 stick of melted salted butter
Sauce
1 c. powdered sugar
3 Tb. of milk (or more if not thin enough)
1/2 teaspoon vanilla
How to do it :
Cut the butter into small patties and place them on a cookie sheet lined with waxed paper. Put in the freezer for at least 10 minutes. Prepare a cast iron frying pan with a small amount of bacon fat, if possible. The simplest: fry a piece of bacon, wipe the pan dry, and you're ready to go!
Preheat the oven to 500 degrees.
Mix the sauce ingredients (powdered sugar, milk, vanilla), and make sure that the powdered sugar is completely dissolved.
Mix all the dry ingredients (flour, baking powder, salt, sugar) and cut them into the cold unsalted butter. Cut until the butter is the size of a pea, relatively well mixed. Add the buttermilk. Slowly add until you have just enough where the dough separates from the sides of the bowl. Mix until the dough is well blended and spread on a well floured surface.
Before kneading, prepare a large surface for kneading. (I use a large cutting board for easy cleaning!) Sprinkle the surface with a little flour. Place the dough on the floured surface and sprinkle a little flour on the dough. Press the dough down (no need to roll it with a pin) and flatten it to about 1/2″ thickness. Put blueberries on the dough. Knead several times and flatten again to a thickness of about 1″. (Honestly, the thicker the better, because they lift so well!) The berries will probably start to bleed on the dough and you'll start to see blue spots as the berries thaw.
Place the cookies in a cast iron pan and make sure the cookies are touching each other.
Bake them at 500 degrees for about 10 to 12 minutes. After 6 to 8 minutes, remove the pan from the oven and brush the cookies with melted salted butter. This is part of the baking process. And be generous with it, brushing the sides of the cookies if they are exposed. When you start to see the tops lightly browned (and the blueberries burst), take them out. The temperature in the middle of the cookies will stay very hot once they are out of the oven and will allow you to continue baking.