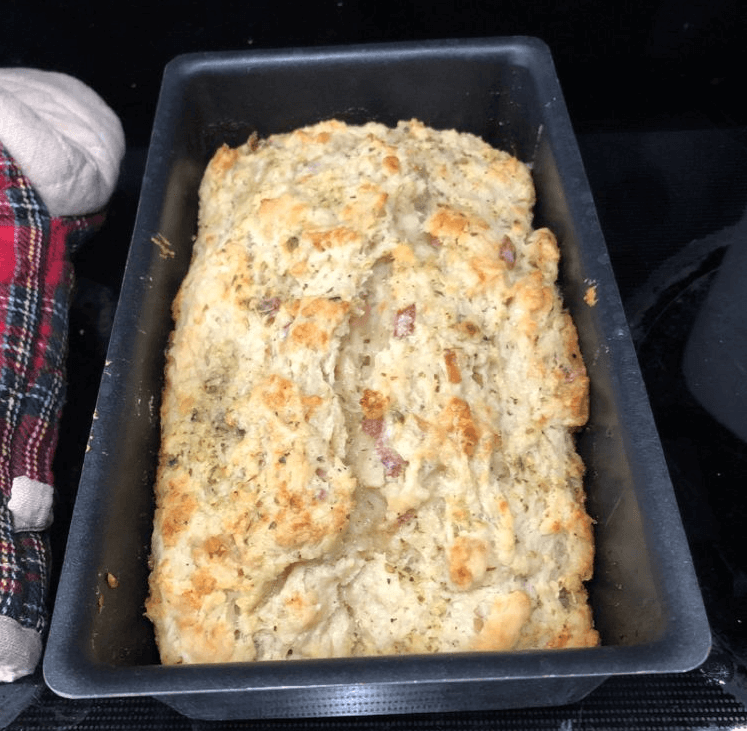 Apple chunks, sharp Cheddar cheese, and fresh rosemary are a great savory and sweet combination in this beer bread. It's especially good with soup or chili. I used an apple ale, but you may use your favorite beer.
Great tasting bread. Increased the cheese by 50%. Made it way cheesier!!
This is hands down the most delicious bread I've made. It's a well balanced flavor that combines the saltiness of cheddar, the sweetness of apple and the earthiness of rosemary.
I have been making beer bread for many years. This is the first time I made a variation on the basic recipe. It was delicious! Family loved the flavor and was great served with potato soup.
I wasn't a fan. The bread was super dense and while savory, did not have a strong apple or cheddar flavor. I found it to be quite bland. It didn't taste bad – it's just not a flavor profile I would go back to for seconds.
INGREDIENTS :
3 cups flour
1 tablespoon baking powder
1/2 teaspoon salt
1/2 teaspoon garlic powder
1/2 teaspoon cumin
2 tablespoons sugar
6 slices crispy cooked bacon coarsely chopped
3 tablespoons jalapeno pepper finely minced
2 1/4 cups grated cheddar cheese
1 beer (12 ounces)
3 tablespoons butter melted
INSTRUCTIONS :
Step 1: Ready the oven and preheat to 350 degrees F.
Step 2: Apply cooking spray in a 9×5-inch loaf pan.
Step 3: In a large mixing bowl, add in the baking powder, cumin, garlic powder, jalapeno pepper, cheddar cheese, bacon, and salt. Stir until well blended.
Step 4: Pour in the beer and stir until just blended.
Step 5: Spread the mixture over the loaf pan.
Step 6: Add in the melted butter ion top of the bread.
Step 7: Place inside the preheated oven and bake for 50 to 60 minutes or until the color turns brown.
Step 8: Remove from the oven and let it sit on a wire rack.
Step 9: Remove from the pan and allow let the bread to sit at room temperature for 20 minutes to cool.
Step 10: Slice into small cuts.
Step 11: Serve and enjoy!