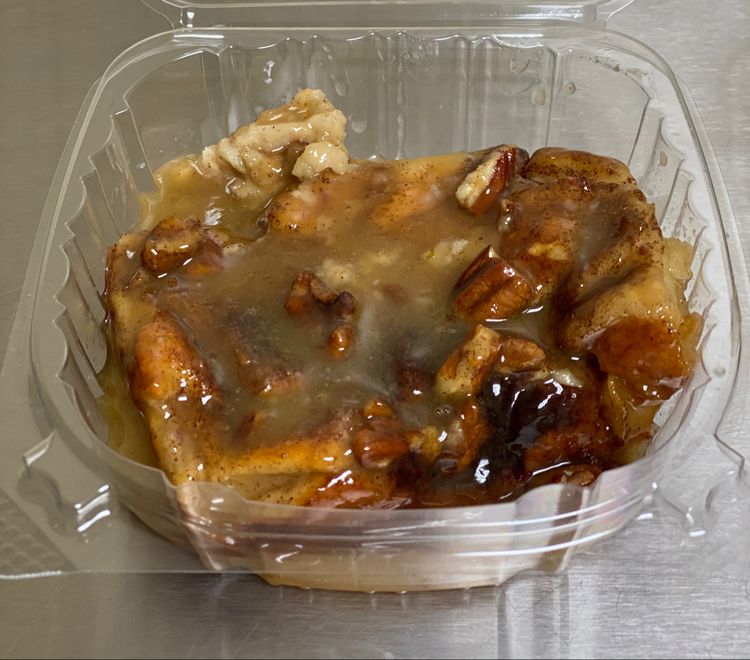 Somehow, in the four years we've been doing this blog, we've never put a pudding online.
I've had it on the calendar so many times (wait… truffles… pumpkin… chicken… I don't know why it hasn't happened, but when it does, it'll be great), but it always seems to be postponed. Or maybe I don't want to do it. Or it's too hot. Or some kind of lame excuse.
Well, no more excuses, I just wanted to share this recipe while you're still craving apples. (You always crave apples, and things made with apples, and bread, and pudding, and caramel…. right? . . Good. So do I).
It starts with a piece of bread (if you can leave them outside for a few hours so they're dry, that's great. If not, just place them on a baking sheet and bake them at 350 for 10-15 minutes or until dry but not toasted), eggs, apples… as well as vanilla yogurt, milk and spices.
Your kitchen will smell very, very good while this baby is cooking. I'm warning you.
And the formula for caramel sauce is a simple adaptation of similar recipes, they always seem to be called "caramel sauce", "brown sugar sauce", "caramel sauce" or "brown sugar butter sauce" or a variation of these. I think this one tastes more caramelized than anything else, so that's what it's called here, right? Okay.
Ingredients:
8 cups of bread, cubed
3 medium apples, peeled, cored and chopped
4 eggs
1 cup vanilla yogurt
1 cup of milk
2 teaspoons cinnamon, divided
½ tsp nutmeg
½ c sugar + 2 tablespoons
½ cup of raisins
Sauce
1 cup unsalted butter
1 cup heavy cream
1 cup brown sugar
Instructions :
Preheat the oven to 350°.
Spray a 9×13 baking dish with cooking spray.
In a large bowl, whisk together yoghurt, milk, eggs, 1 tsp cinnamon, nutmeg and ½ cup sugar.
Stir in the apples and raisins, then gently fold in the bread cubes. Pour into the prepared pan.
In a small bowl, mix 2 tablespoons of sugar and 1 teaspoon of cinnamon.
Sprinkle the pudding over the bread. Bake in the oven for 30-40 minutes until puffed and golden brown.
While the pudding is baking, prepare the caramel sauce.
In a heavy saucepan over medium-low heat, combine butter, heavy cream and brown sugar; bring to a boil.
Reduce heat to low, simmer until sauce thickens, about 5 minutes. Pour over the milk bread to serve. Garnish with vanilla ice cream.
* If you can leave the bread cubes outside for a few hours to dry. If not, place them on a baking sheet and bake at 350 for 10-15 minutes or until dry but not toasted.
* You can make it the night before and put it in the oven for breakfast – in fact, it's better if it stays overnight!
source:http://cakescottage.com