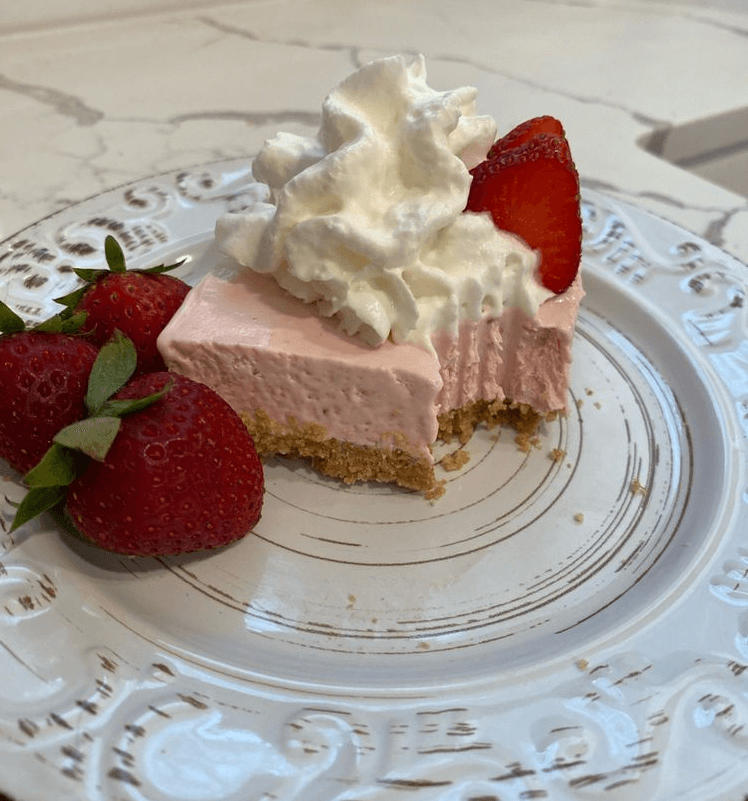 Creamy, fruity and absolutely delicious these Strawberry Cheesecake Bars are super easy, fun and are perfect for a spring treat!
Cheesecake…need I say more? Cheesecake is one thing that I'm absolutely in love with. It's one thing that I've found out that I rock at making.
Everyone always asks me for my Classic Cheesecake Recipe because they love it so much. But when it comes to bars, Cheesecake Bars are some of my favorite around.
Baking with strawberries is one thing that I absolutely love to do. I love the flavor of strawberries in a variety of desserts.
WHY THIS RECIPE WORKS:
They are handheld sized so you don't need as much as a regular cheesecake to enjoy the dessert.
Easy to find ingredients make these super convenient to whip up.
The strawberries in this recipe enhance the flavor of the cheesecake itself.
These Strawberry Cheesecake Bars really are super simple to make. You can use pretty much any fruit that you want, we have done Lemon Raspberry as well and LOVE it.
It is a really versatile recipe and you don't even need to add fruit if you don't want, chocolate chips work well, sprinkles, Oreos, whatever you desire.
Ingredients
Crust:
2 cups graham cracker crumbs
1/4 cup sugar
1/2 cup butter melted
Cheesecake:
4 8 oz pkg cream cheese softened
1 cup sugar
2 tsp vanilla extract
4 eggs
2 1/2 cup strawberries + more for topping
Whipped topping optional
Instructions
Preheat oven to 325.
Line a 9″x13″ pan with tinfoil, set aside.
In bowl stir together graham cracker crumbs, sugar and butter.
Press mixture into prepared pan and bake in oven for 10 minutes.
Meanwhile in large bowl beat your cream cheese until smooth.
Add in your sugar and extract and beat again until combined.
Add in your eggs one at a time, mixing well after each addition.
Fold in 2 1/2 cups of your strawberries and pour into crust and spread evenly.
Bake in oven for 35-40 minutes until center is almost set, remove from oven and let cool completely.
Refrigerate for 4 hours to set, then cut into bars and top with whipped topping and sliced strawberries if desired.