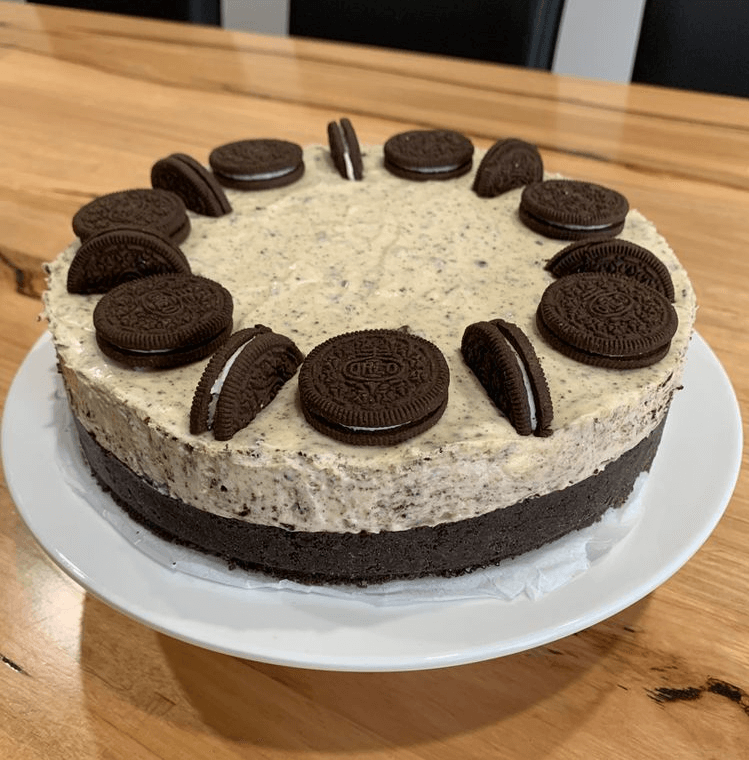 This No Bake Oreo Cheesecake is made with only a few ingredients! It is so smooth and silky and filled with pieces of Oreos. The perfect no-bake dessert for summer!
I'm back with another easy no-bake cheesecake to add to the family!
This time it's this ridiculously easy and silky smooth no-bake Oreo cheesecake made with just a few simple ingredients and no oven.
It adds to the collection of chocolate, white chocolate and raspberry cheesecake recipes, marshmallow and peanut butter square cheesecake, and this collection of no-bake cheesecake recipes, and no one is crazy about it.
I've been a cookie and cream fanatic for a long time, so I don't know why it took me so long to create this version of my favourite dessert.
I should really be ashamed of myself.
Ingredients
1/4 cup melted butter
50 Oreo cookies (2 packs of 300g) divided
1/2 cup white chocolate chips
24 oz cream cheese (3 packages of 250g/8 oz)
1 1/2 cups powdered sugar
1 1/4 cups heavy whipping cream, divided
Instructions
Crust :
Mix the melted butter and a 1,300 gram package of Oreo cookies (25 cookies) in a food processor. Process until the mixture is smooth and begins to stick.
Press into a springform pan 9″ Springform and about 1/2″ on the sides.
Filling :
In a medium bowl, mix white chocolate chips and 1/4 cup cream. Microwave on high power every 20 seconds, stirring well each time, until the mixture is melted and smooth. Set aside.
In a large bowl, beat cream cheese with electric mixer until smooth. Add powdered sugar and melted white chocolate and beat until well blended.
Add remaining cream (1 cup) and beat on low speed until incorporated, then beat on high speed until thickened and foamy (3-4 minutes). Do not stop until cream has thickened!
Reserve 5 Oreo cookies for filling, and place the remaining 20 in a large zipper bag. Crush them with a rolling pin or other hard object and fold them into the cheesecake filling.
Spread into prepared crust, cover and refrigerate for at least 5-6 hours or overnight.
Slice and serve.