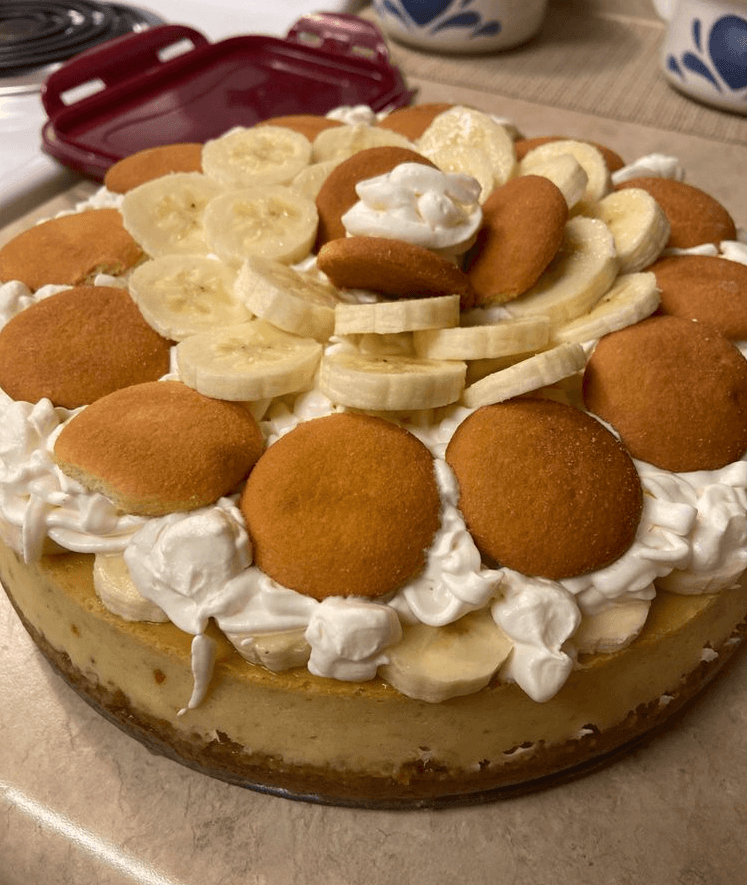 Banana Pudding Cheesecake has a vanilla wafer crust and a creamy banana filling, flavored with fresh bananas and brown sugar. It's a breathtaking dessert.
This creamy fresh banana flavored dessert is a combination of two of my favorite desserts: cheesecake and banana pudding. I'm a big fan of all things banana pudding. In the past, I've made banana pudding pancakes, banana pudding bars, banana pudding cupcakes, banana pudding cake, banana pudding Twinkie and banana pudding ice cream.
The banana pudding cheesecake starts with a vanilla wafer crust – because you can't have banana pudding without wafers 🙂 . Just to make sure there is enough Nilla Wafer goodness, a ring of whole vanilla wafers is placed along the circumference of the springform pan. If you wanted even more vanilla wafers in your Banana Pudding Cheesecake, you could also make a layer in the middle of the filling.
INGREDIENTS
2 blocks (16 oz.) cream cheese, softened
3/4 c. sugar
2 c. heavy cream
1 teaspoon pure vanilla extract
1 package vanilla instant pudding
1 3/4 c. whole milk
1 prepared graham cracker crust
3 bananas, sliced, plus slices for topping
30 Nilla Wafers, plus more for topping
Whipped cream or Cool Whip, to serve
DIRECTIONS
Prepare cheesecake filling: In a large bowl, using a hand mixer or stand mixer fitted with a whisk attachment, beat cream cheese until fluffy and no lumps remain.
Add sugar and beat until combined. Add heavy cream and vanilla and beat until stiff peaks form. Set aside.
In a medium bowl, whisk together pudding mix and milk. Let pudding stand for 3 minutes in refrigerator until thickened. Stir into cheesecake mixture until combined.
Pour half of the filling into the graham cracker crust. Add a single layer of sliced bananas and Nilla Wafers (23 total), then pour in the other half of the filling. Smooth top and top with crushed Nillas.
Refrigerate until cheesecake is firm, at least 6 hours and up to overnight (if cheesecake is still too soft to slice, transfer to freezer for up to 1 hour).
Before serving, top with dollops of whipped cream or Cool Whip around the edge of the cheesecake. Top each spoonful with a banana slice and a Nilla wafer, then top the entire cheesecake with more Nilla wafers.
source: Allrecipes.com