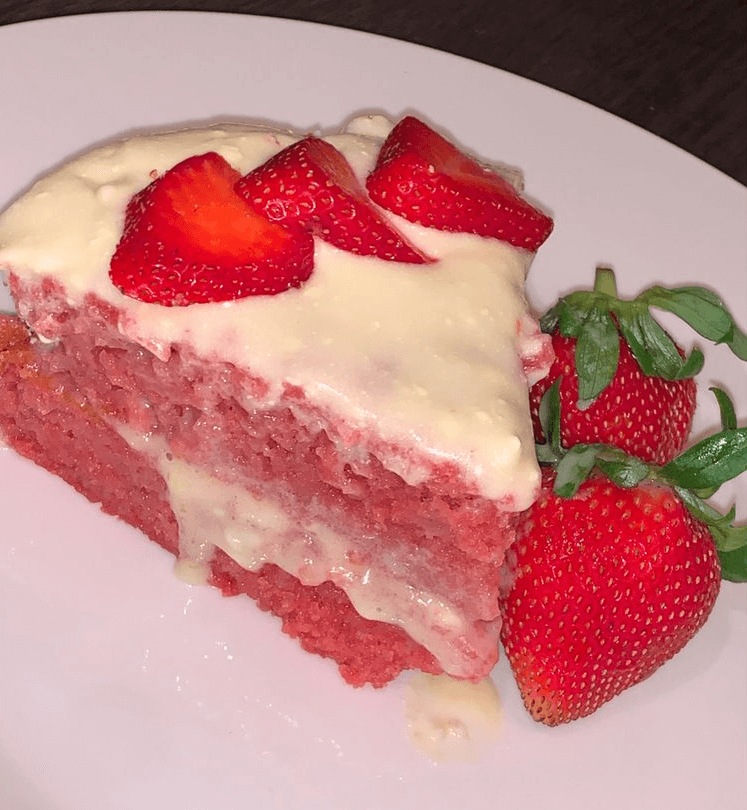 Yesterday was my darling friend Mary's birthday, and when you have that kind of friend, you make something extra special.
She's a Southern belle who loves strawberries and pound cake, so naturally, I hopped into the kitchen to create my crazy-delicious, triple decker Strawberry Cake with strawberry buttercream frosting!
The rich pink color of this dense cake and the intense strawberry flavor top-to-bottom makes everyone happy, and I knew it would put a smile on her face.
Guys, I really LOOOVE this cake. It's a combination of a strawberry cake with Jello and a fresh strawberry cake, which is something that's hard to find in most recipes.
The strawberry cake Martha Stewart makes uses fresh fruit, but it produces a one-layered coffeecake. That's great with my morning latte, but it doesn't really elicit the "ooh and ahhh" response I wanted for my friend's special day.
The strawberry cake Paula Deen makes does use Jello to achieve its signature color (that's "blush and bashful," for any Steel Magnolias fans out there), but she uses frozen strawberries.
I think using fresh strawberries helps them retain their texture, even when baking, so that's what I use in my Strawberry Cake recipe. Paula also uses a traditional cream cheese frosting, and like mine is, well, a work of art.
Let's talk about the cake itself first, though.
YOU NEED
6 large eggs
1 cup sugar
1 cup cake flour or GF flour mix
1/2 tsp salt
2 tsp vanilla
6 tablespoons butter melted
3 tablespoons strawberry jello powder
3 tablespoons strawberry jam
Directions :
Mix eggs and sugar and heat over a double boiler until very warm. Whisk with an electric mixer of some sort until thick and lemon colored. Gently fold in dry ingredients (flour, salt and strawberry jello powder). Mix together the melted and cooled butter, jam and vanilla and then fold that into the batter.
Bake at 350 in two 8″ round pans that have been buttered and have parchment rounds in the bottom.
Strawberry Cream Cheese Icing –
4 cups powdered sugar
8 oz cream cheese
1/2 cup (1 stick) butter
2 tsp vanilla
1 cup heavy cream
6 tbsp strawberry jello powder
Whip the heavy cream and strawberry jello powder until it holds soft peaks, remove from the bowl and set aside. Next beat the butter and half of the sugar until it is very soft and light in color. Add the other three tablespoons of strawberry jello powder, cream cheese and the remaining powdered sugar. Beat with a paddle until it just comes together and isn't lumpy. Fold this together with the strawberry whipped cream.
Lastly I iced the cake with a layer of strawberries in the middle and more on top to garnish.
Footnotes
Partner Tip
Reynolds® parchment can be used for easier cleanup/removal from the pan.
Nutrition Facts
Per Serving: 393 calories; 15.4 
 59.3   5.4   90   233