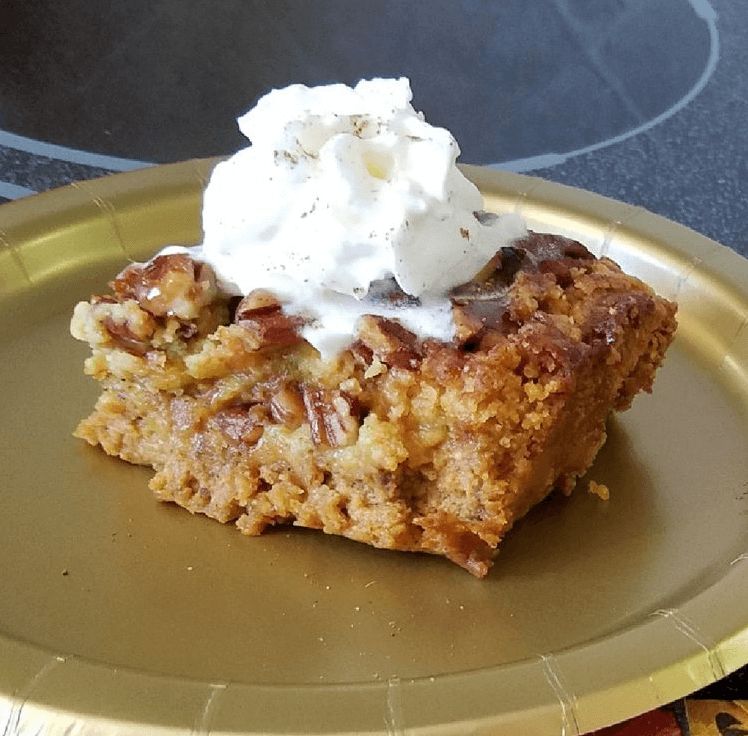 I first shared this recipe a few years ago, but it was so popular that I decided I needed new photos and a printable recipe card to go with it. Here is Pumpkin Pie, an amazing update on pumpkin pie that abandons the traditional crust in favour of butter cakes. It's easy to make, feeds a crowd and will be enjoyed by all, even pumpkin pie detractors like me. Moreover, it will give your house a divine smell.
Pumpkin cake
The first time I tried this recipe, I didn't know what to expect. A pie? Cake? Something in between? Well, it's certainly a piece of pumpkin pie, creamy and spicy to perfection.
But instead of a crust, the pie is mixed with crumbs made from a mixture of yellow cake and butter. Half of the crumbs are mixed with the pumpkin mixture, where they stay soft, while the other half goes on top, where they become just a little crunchy.
Ingredients
1 yellow cake mix (reserve 1 cup)
3/4 cup softened butter (1 1/2 sticks)
4 eggs
1 29-ounce can of plain pumpkin puree (no pie filling)
2 teaspoons of cinnamon
1 teaspoon ground ginger
1/2 teaspoon ground cloves
1 cup sugar, divided
1/2 cup packed brown sugar
2/3 cup of milk
1 cup chopped pecans
Instructions
Preheat oven to 350°F. Butter the bottom of a 9×13 inch baking pan or baking dish.
Combine cake mix (minus the reserved cup), an egg and a stick of butter; mix well. Press the mixture evenly into the bottom of the prepared pan.
In a bowl, combine pumpkin, 3 eggs, cinnamon, ginger, cloves, brown sugar, 1/2 cup white sugar and milk. Mix well, then pour an even layer on top of the cake mix layer.
Mix together the reserved cake mix, 1/2 stick of butter, 1/2 cup of white sugar and 1 cup of pecans. Sprinkle the mixture evenly over your pumpkin mixture.
Bake for about 1 hour and check with a toothpick. If the toothpick does not come out clean, return the cake to the oven for an additional 10 to 15 minutes.