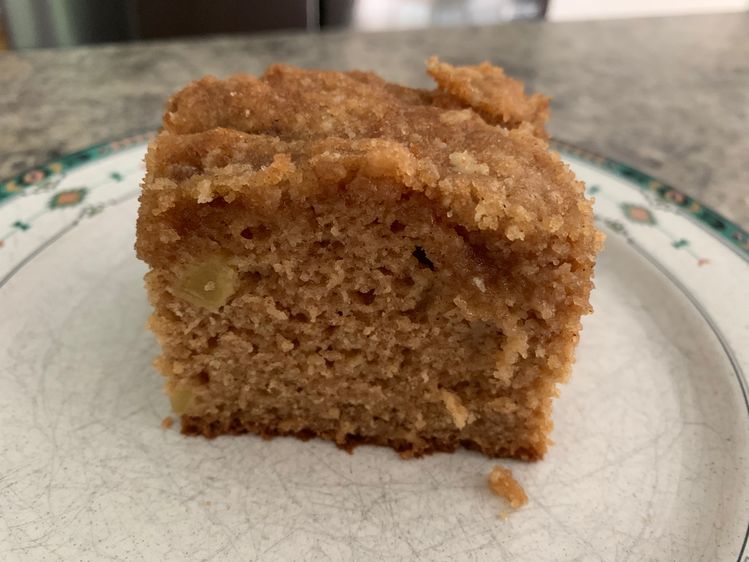 Applesauce Cake with Cinnamon Cream Cheese Frosting is simple recipe for sweet, tender and incredibly moist, homemade cake from scratch, with ingredients that you already have in pantry.
Growing up, it is safe to say that we were a dessert family.
One dessert that my Mom often made, also a favorite of my Grandma, was this applesauce cake. They both made it in a 9 x 13 aluminum lidded pan, also with the telltale lid rattle I could hear from a mile away.
Most families have a cake or two like this, ones that are made entirely of pantry staples and remind them instantly of home. For me this is that cake.
While I most love chocolate cake, this is the cake that takes me straight back to the childhood to my Grandma's kitchen.
WHAT IS APPLESAUCE CAKE?
It's unclear to me the exact origins of our cake recipe. Many people are familiar with Amish applesauce cake, and it's a common dessert to find for sale at your local farmers market.
Some recipes use molasses or a tablespoon or two of cocoa powder, shortening, oil or butter but all use applesauce. Most are studded with varying amounts of walnuts/pecans and/or raisins.
Can be topped with cinnamon spiced cream cheese frosting, brown butter frosting, vanilla ice cream and so on or just powdered sugar !
I'm certain our version comes from a newspaper somewhere over the years, and was written down in my Grandma's lovely cursive on a 3 x 5 index card that has yellowed and browned over time.
Cake Ingredients:
2 cups all-purpose flour
2 cups sugar
1 1/2 cups applesauce
1/2 cup Butter, softened
2 Eggs
1 1/2 teaspoons baking soda
1 1/2 teaspoons ground cinnamon
1 teaspoon vanilla
1/2 teaspoon baking powder
1/2 teaspoon salt
1/4 teaspoon ground allspice
3/4 cup golden raisins or raisins
1/2 cup chopped pecans
Frosting:
1/3 cup Butter
3 cups powdered sugar
1 1/2 teaspoons vanilla
2 to 3 tablespoons milk
1/4 cup chopped pecans optional
Directions:
Combine all cake ingredients except raisins and pecans in bowl. Beat at low speed, scraping bowl often, until ingredients are moistened. Beat at high speed, scraping bowl often, until smooth. Stir in raisins and 1/2 cup pecans. Pour into a greased 9×13 baking pan. Bake at 350 for 35-40 minutes.
Frosting
Melt 1/3 cup butter in a saucepan over medium heat. Continue cooking, stirring constantly and watching closely, 4-6 minutes or until butter just starts to turn golden. Remove from heat. Cool completely. Combine browned butter, confectioners sugar and 1 1/2 teaspoons vanilla in bowl. Beat at medium speed, gradually adding milk beat until frosting is smooth and spreadable. Frost cooled cake. Sprinkle with 1/4 cup pecans if you like.