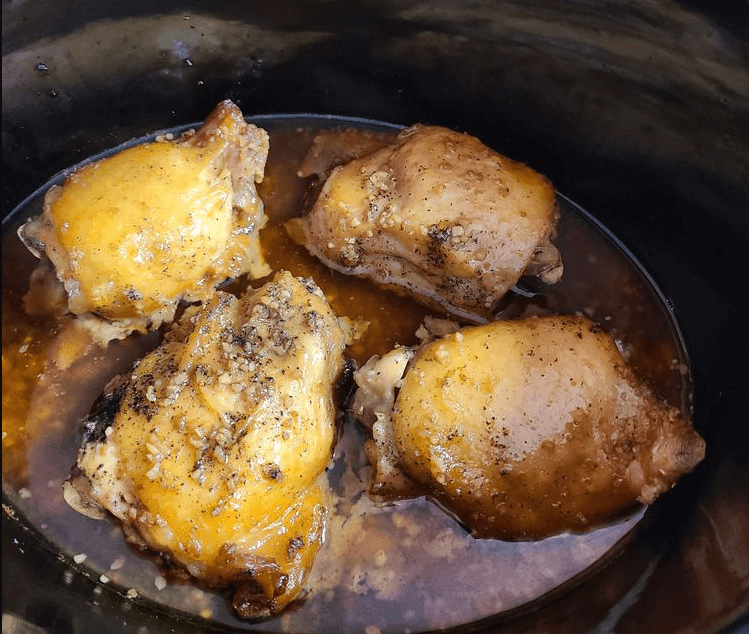 Slow cooker's brown sugar and garlic chicken is the perfect meal for the week. Just put the ingredients in the slow cooker and you'll have the best chicken dish ever!
We love slow cooker meals and some of our most popular dishes are Slow Cooker Ribs, Beef Stew and Cabbage Corned Beef.
Slow Cooker Chicken with Garlic and Brown Sugar
Slow cooker chicken with garlic and brown sugar is the kind of recipe that will drive your family crazy! It's super tasty, rich and delicious. The meat is a little sweet, a little spicy and incredibly delicious. It's the only recipe you have to try in the slow cooker. It's also a kind of meal that kids and adults will love.
This recipe is really easy to make. It's economical and requires only 5 ingredients. Basically, you just put everything in the pot and let it cook for a few hours. By lunch time, you'll have an amazing meal with great flavors.
Believe us, the whole family will love it! Plus, this recipe is versatile, and you can use other pieces of chicken. Our favorite accompaniment is without a doubt white rice, potatoes or grilled vegetables.
Ingredients
4 chicken thighs with bones (and skin)
Sauce :
6 cloves of garlic (chopped)
1/3 cup brown sugar (packed)
1 tablespoon of sesame oil
1 tablespoon hot sauce (optional)
1 teaspoon smoked paprika
1/2 teaspoon kosher salt (or to taste)
1/4 teaspoon ground black pepper (or to taste)
Garnish :
chopped green onions
sesame seeds
Instructions
In a large slow cooker, add all the ingredients listed under "Sauce" and stir until completely incorporated.
Then add the chicken thighs and toss with the mixture to completely coat both sides.
Make sure the skin of the chicken is facing up.
Cook over low heat for 7-8 hours or over high heat for 4 hours.
To make the chicken crispier, grill for a few minutes before serving.
Enjoy!