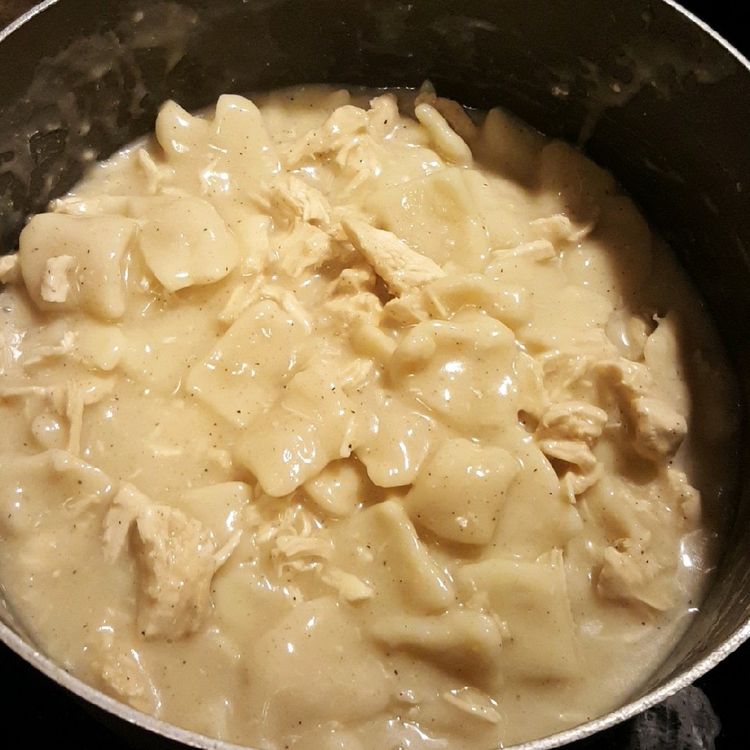 I had made a chicken stew to use for several preparations, one of which was to make Chicken and Dumplings, so I only used the dumpling part of this recipe. The dumplings were light and had a delicious ('perfect' in my book) texture and flavor. I used melted unsalted butter instead of oil, and used a scant teaspoon of salt. I also cooked them close to 30 minutes. Just wonderful. DH was very suspicious – his experience had always been with heavy, gooey dumplings – but he loved this. The secret to a light dumpling is to never lift the lid until they're done (just like cooking rice). Thanks for a great recipe for an old standard.
This is one of our all-time favorite recipes, and for good reason: it's a modern take on a comforting classic. Browning the chicken first gives the dish its flavor, and eliminates the need for chicken broth. Here's how it works: you'll season the chicken and brown it in batches, then transfer it to a plate. Then, you'll add your veggies to the pot with the chicken drippings, which will give them all sorts of delicious flavor. And let's not forget the dumplings. It takes just six pantry ingredients (plus a pinch of salt and pepper) to create fluffy, delicious dumplings that make the soup simply irresistible.
Ingredients:
1 Chicken
2-3 cans of Pillsbury Biscuits (the small biscuits, not the larger ones like Grands)
1 can of Cream of Chicken Soup
Approximately 1/2 Cup of Flour
Salt and Pepper to taste
Directions:
Remove the giblets from the Chicken and discard, Wash the Chicken
Salt and Pepper Chicken
Put Chicken in a pot and cover with water, boil until chicken is done (about 45 minutes)
When Chicken is done, take out and let cool
SAVE ALL THE BROTH FROM THE CHICKEN
While Chicken is cooling , open the biscuits and flatten each one ( I just smash them with my hands)
Dip or dredge biscuits in flour, then cut each one in 4 pieces ( I use my kitchen Shears)
Add the Cream of Chicken Soup to the Broth, Then drop the Biscuits in and let cook while you are Pulling the meat off of the Chicken.
Add Chicken, Salt and Pepper to Taste.
Enjoy!!