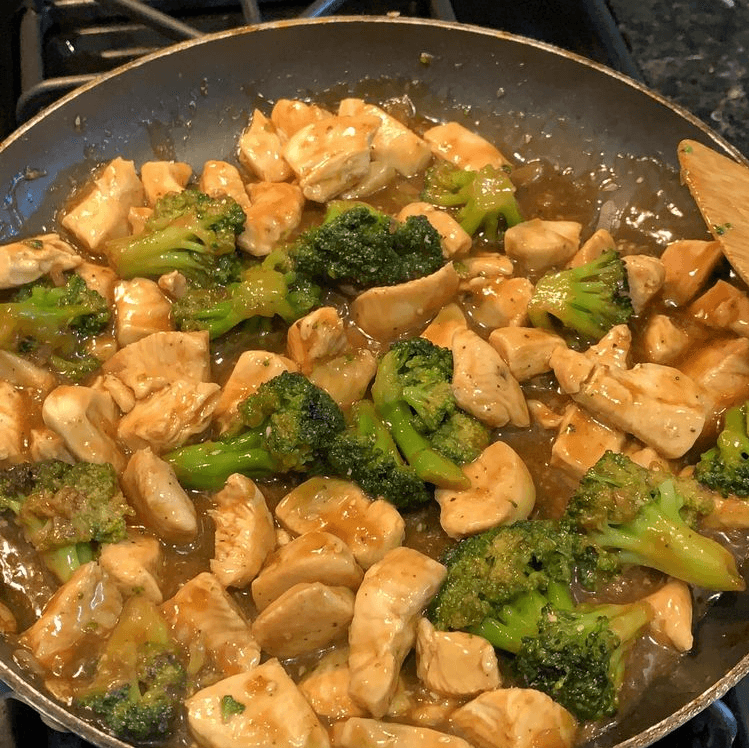 This chicken and broccoli stir-fry gives a whole new meaning to the label "easy chicken dinner". It's easy to prepare, but the end result is full of flavour and is sure to satisfy you! Plus, it's a healthy chicken recipe that will help you keep your New Year's resolutions.
I've always loved chicken stir-fry recipes. My mom used to make stir-fry vegetables when I was little, so now I always want to.
Here you have chicken bites fried until golden brown. Then the broccoli is cooked until tender, then you mix the chicken and broccoli with a teriyaki sauce.
This combination of flavours is so tasty that it will help reduce the cravings for take-out Chinese food without frying or calories.
And to make it even healthier, you can accompany the brown rice with a tablespoon of brown sugar and another tablespoon of honey.
But whatever you do here, don't forget the corn starch! It's a key ingredient and this dish wouldn't be the same without it.
As I mentioned before, I recommend using Argo corn starch. It's a brand I've always used and I love their convenient containers for staying fresh with a resealable lid.
Ingredients :
2 cups broccoli florets
1 pound boneless skinless chicken breast, cut into 1-inch pieces
2 teaspoons cornstarch
2 teaspoons of finely chopped ginger
1 cup chicken broth
2 cloves of garlic, finely chopped
3 tablespoons of soy sauce
2 teaspoons of sugar
Instructions :
Spray a 12-inch non-stick skillet with cooking spray; heat over medium-high heat. Add chicken, garlic and ginger. Fry 2 to 3 minutes or until chicken is brown.
Add 3/4 cup broth, soy sauce and sugar. Cover and cook over medium heat for 5 minutes, stirring twice.
Add broccoli. Cover and cook about 5 minutes, stirring occasionally, until chicken is no longer pink in the center and broccoli is tender-crisp.
Mix cornstarch with 1/4 cup of the remaining broth; stir into chicken mixture. Cook, stirring frequently, until sauce thickens.