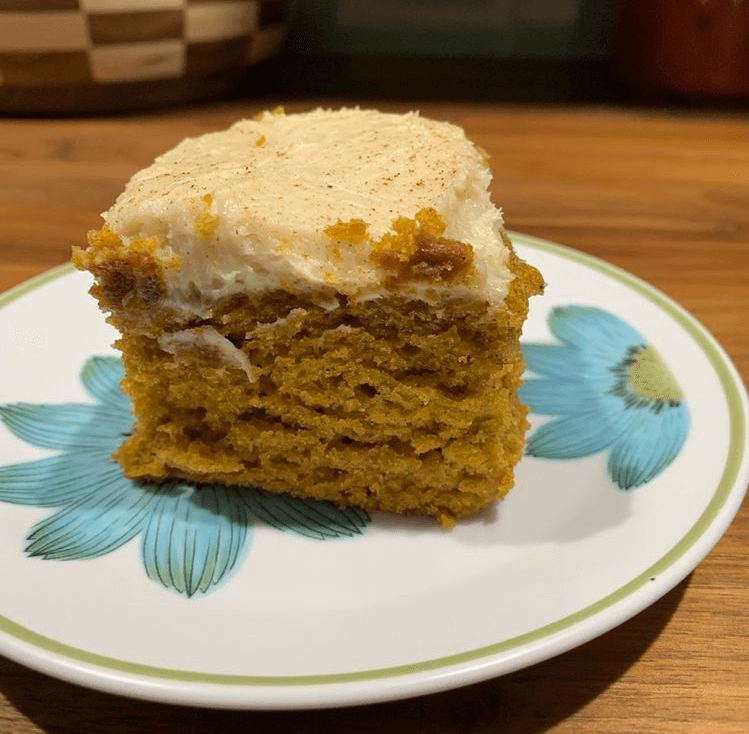 This is a super easy and deliciously different pumpkin dessert. Great for the holidays or just for a quick get together
This cake was a big hit! My co-workers gobbled it up! I tweaked the frosting as well: 1/2 stick butter 1 C confectioners' sugar 3/4 tsp cinnamon 3/4 tsp vanilla and 1 (8 oz) pkg cream cheese. Very good! Not too sweet and good spice flavor!
I have been making this cake as pumpkin bars for about 20 years. It has remained a staple favorite. We use a 15X10 jelly roll pan instead of the 9X13. We do add about double the spice and usually I just use pumpkin pie spice. For frosting we use a can of vanilla frosting and beat 4 oz of cream cheese into it and add some pumpkin pie spice. For fall events we decorate each bar with a marshmallow candy pumpkin or candy corn. Everyone I know like this better chilled in the fridge before eating. YUMMY!
Prep: 10 mins | Cook: 40 mins | Total: 50 mins | Servings: 12 | Yield: 1 – 9×13 inch pan
INGREDIENTS
1 (15 ounce) can canned pumpkin puree
1 teaspoon ground cinnamon
1 teaspoon ground cloves
1 teaspoon ground nutmeg
1 (18.25 ounce) package yellow cake mix with pudding
¼ cup vegetable oil
2 large eggs eggs
1 teaspoon vanilla extract
½ cup butter, softened
4 (3 ounce) packages cream cheese, softened
2 cups confectioners' sugar
1 teaspoon ground cinnamon
1 teaspoon vanilla extract
INSTRUCTIONS
Step 1:
Preheat oven to 350 degrees F (175 degrees C). Grease and flour a 9×13 inch pan. Whisk together the pumpkin, cinnamon, cloves and nutmeg. Set aside.
Step 2:
In a large bowl, mix together the cake mix and oil. Beat in the eggs, then fold in the pumpkin mixture. Stir in the vanilla.
Step 3:
Pour batter into prepared pan. Bake in the preheated oven for 40 minutes, or until a toothpick inserted into the center of the cake comes out clean. Allow to cool.
Step 4:
To make cream cheese frosting: Cream together the butter and cream cheese until light and fluffy. Beat in the confectioners' sugar, mixing until smooth. Stir in the cinnamon and vanilla. Spread frosting over cooled cake.
Nutrition Facts
Per Serving:
503 calories; protein 5.8g 12% DV; carbohydrates 58.6g 19% DV; fat 28.2g 43% DV; cholesterol 83.4mg 28% DV; sodium 435.3mg 17% DV.