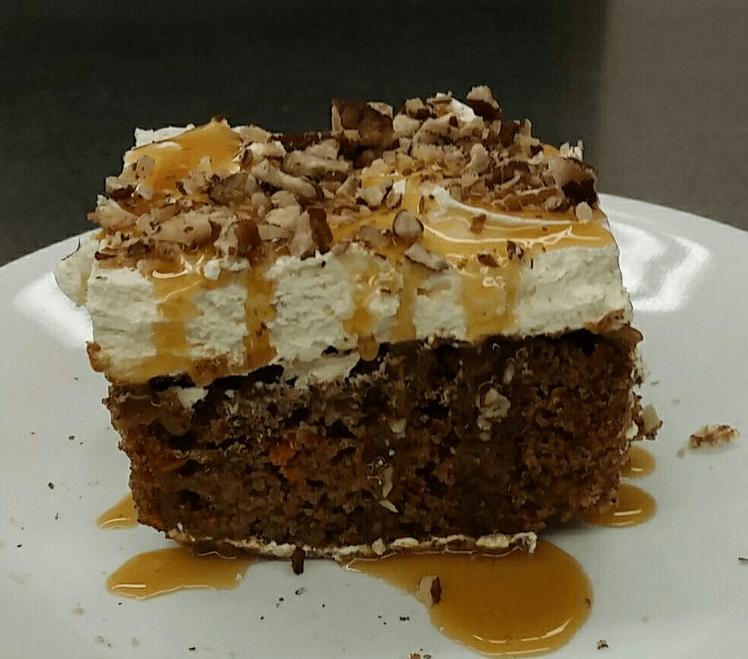 If you are looking for a fun new Easter dessert to try this spring, this easy Carrot Cake Poke Cake recipe is the best treat that you can make for your family. Filled with white chocolate pudding and topped with cream cheese frosting, this super moist carrot cake is over the top delicious!
Carrot Cake with Cream Cheese Frosting is classic Easter dessert. But you can make a fun twist this year and turn it into amazing, perfectly moist, homemade poke cake filled with white chocolate pudding.
Almost every recipe I found on the internet uses box cake mix and caned cream cheese frosting for poke cakes.  They all sounds super simple to make, but I prefer real homemade cakes from scratch, with this magic custard cake as one of my favorites to make (and taste!). Especially when it comes to a holidays and family gatherings such as Easter dinner or brunch.
Although I baked dozens of cakes with many different flavors, I do not have too much experience with carrot cakes. To tell the truth, I'm not a huge fun of carrots so I refused to try any kind of carrot treats for years. I always imagined that carrot tastes much in the cake and it seems yuck to me.
What I fool I was! One day I decided to try carrot cake and realized that I been missing a lot. Baked goods with carrots actually taste so good. You can't even tell there's carrot in it.
Ingredients
The 9×13 Carrot Cake recipe of your choice, baked and cooled (I used a box mix)
14 oz sweetened condensed milk
8 oz Cool Whip
10.6 oz Cool Whip Vanilla Frosting (Cream Cheese flavor if your store carries it, mine doesn't)
6 oz (half a tub) of whipped cream cheese (must be whipped)
Approx. 1/2 cup caramel sundae sauce (just pour on as much or as little as you'd like)
Approx. 1 cup chopped pecans (sprinkle on as much or as little as you'd like)
Instructions
Leave the cake in the dish it was baked in– this is not a free standing cake.
Poke approximately 20-25 holes, spread evenly, over the top of the cake with the bottom of a wooden spoon. Pour the sweetened condensed milk over top, trying to fill the holes as much as possible.
In a large bowl, use a hand mixer to beat together the cool whip, the cool whip frosting, and the whipped cream cheese until smooth. Spread over top of the cake.
Pour the caramel sauce over top of the cake, and sprinkle with chopped pecans.
Refrigerate for at least 4 hours, really overnight is best.
Cut into 12 squares to serve (you can cut more, 1/12 is a pretty large piece!).
Source :  allrecipes.com