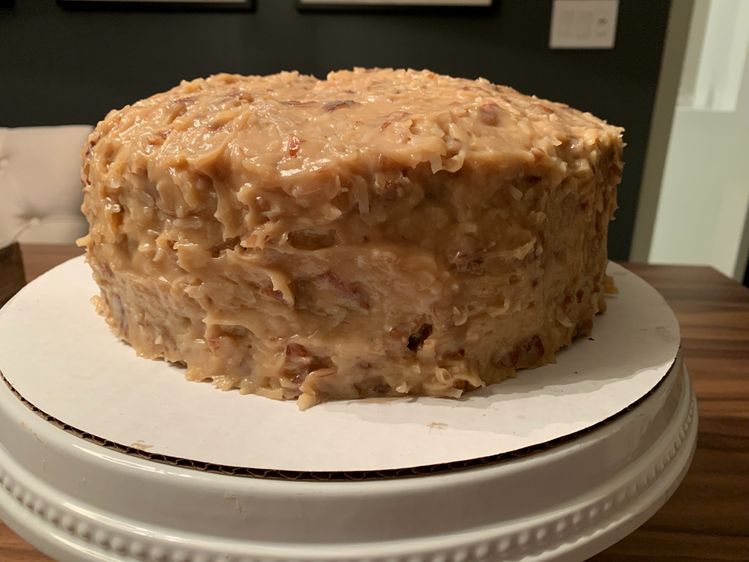 Save the recipe for German Chocolate Cake with Coconut Pecan Frosting
When it comes to a homemade chocolate cake recipe, you have to have a German chocolate cake recipe. From the icing to the cake to the fillings, German Chocolate Cake is a must have recipe.
From the first bite to the last, the flavors are amazing. Rich and creamy, sweet and crunchy, it's a recipe you absolutely must try.
What is German Chocolate Cake Frosting?
This is a classic German chocolate cake icing recipe. German chocolate cake is known for its rich icing. This coconut and pecan icing is not a whipped frosting like buttercream, but rather a runny icing. When you make this icing, it coats the top of the cake and then spreads over the sides.
Ingredients
4 ounces of semi-sweet baking chocolate
½ cup of water
2 cups granulated sugar
1 cup unsalted butter, softened at room temperature
4 large eggs
1 ½ teaspoons of vanilla
1 cup of milk 2
2 ¼ cups of all-purpose flour
1 teaspoon baking soda
1 teaspoon of salt
Coconut and pecan frosting
1 cup unsalted butter, melted
1 cup granulated sugar
1 cup brown sugar, packed
2 cups of evaporated milk
6 egg yolks
2 teaspoons of vanilla
2 ½ cups of coconut flakes
2 cups pecans, chopped
Instructions
Cake
Preheat the oven to 350 degrees.
Melt the chocolate with the water in a small saucepan over medium-low heat until just melted.
In a large bowl, cream butter and sugar together. Pour in the melted chocolate and stir.
Then add the eggs, vanilla and milk until well blended.
Add the flour, baking soda and salt to the mixing bowl and stir or mix into the batter until well blended.
Spray 3 x 8-inch cake pans with nonstick cooking spray. For extra coverage, line the bottom of the pans with a circle of 8-inch parchment paper.
Pour batter evenly between the three pans and bake for 35-40 minutes or until a toothpick inserted in the middle of the cake comes out clean.
Let cool and make frosting.
Once the icing has cooled, assemble the cake :
Place the first layer, rounded side down, on a cake plate, covering with one third of the icing.
Add the second layer, also with the rounded side down, repeating with another layer of icing.
Add the third layer, rounded side up. Cover with the remaining glaze. Do not frost sides.
Refrigerate for 30 minutes to an hour before serving to make cake easier to cut. Keep leftovers covered in the refrigerator.
Coconut and Pecan Icing
Melt the butter and add the granulated sugar, brown sugar, evaporated milk and vanilla. Whisk until well blended.
Stir in the egg yolks.
Cook over medium heat, stirring frequently, until the mixture thickens and bubbles. This should last 10 to 12 minutes.
Add the coconut and pecans and stir to blend evenly.
Remove from stove and let cool for at least 30 minutes, stirring occasionally.