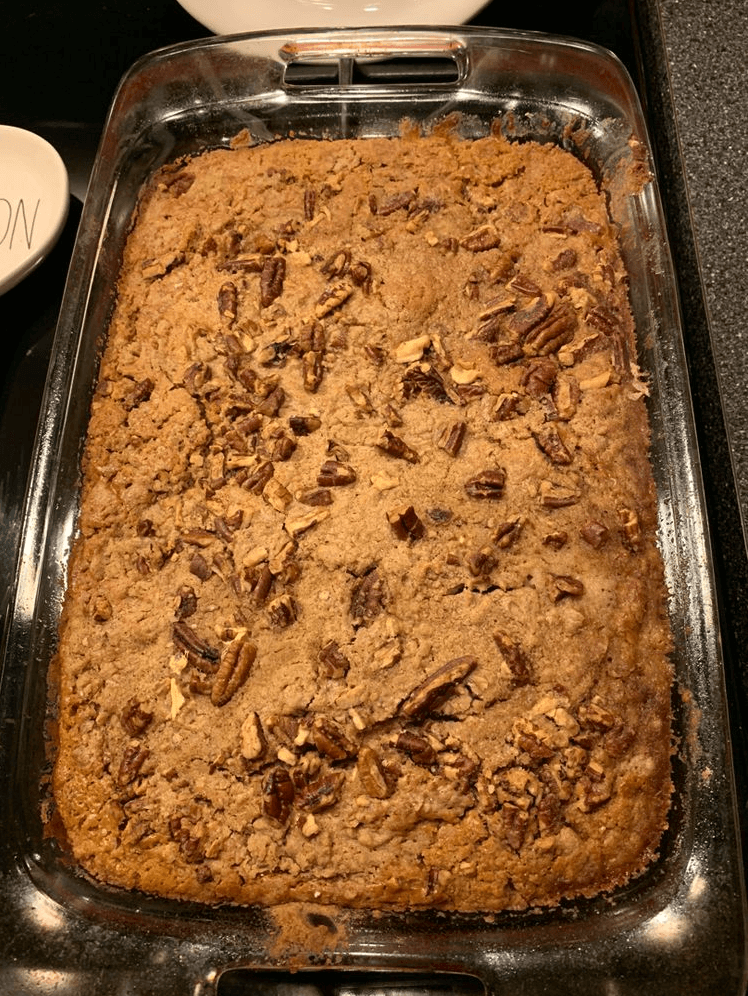 There are different variations of this popular recipe. I think this is the easiest one to remember and to do. Serve cool with whipped cream. Make sure to sprinkle the butter over the cake mix evenly for the crunchiest topping.
Hello fellow reviewers. I'm not an experienced dump cake maker or eater BUT the 20 or 30 that I've had from pumpkin to berry have all been the same hence the word DUMP in the recipe title.
Notes: Added extra cinnamon along with some nutmeg. After all the wet ingredients are mixed and dumped into pan, use the same bowl without cleaning it out. Add vanilla cake mix and melted butter together.
I make this often and always get great results! If I take it to work it is gone by lunch! For a shortcut I use Pumpkin Pie Spice and I just slice 1/2 cup butter over the top with the pecans! Comes out great every time!
Ingredients
16 ounces pumpkin puree
13 ounces evaporated milk
2 teaspoons pumpkin pie spice
4 eggs
1 1/2 cups sugar
18 1/2 ounces yellow cake mix
1 cup butter, melted
1 cup pecans, chopped
Directions
Mix pumpkin, evaporated milk, spice, eggs and sugar. Pour into ungreased 9×13 pan. Sprinkle with dry cake mix. Next sprinkle with melted butter. Top with pecans.
Bake at 350 degrees for 40-45 minutes or until firm. May take a little longer.
Source: Allrecipes.com