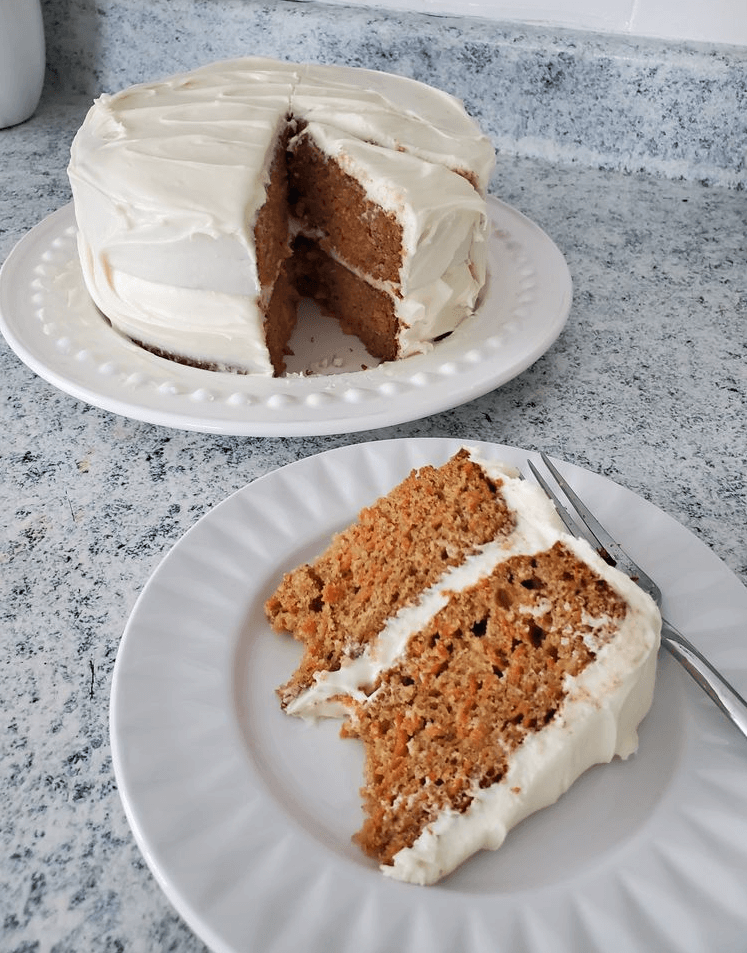 Layered cakes are perfect not only for special occasions but also just because. Why not try a couple of our favourites, including this Classic Tiramisu Layer Cake and this easy Vanilla Cake!
Homemade Carrot Cake
This is one of my favourite Cakes, and I can't wait to share it with you. A delicious carrot cake recipe, because carrot cake is just too good not to be shared with everyone and this is the best carrot cake I have ever eaten.
This recipe was given to me 26 years ago, baked on a special occasion by my good friend's mother. Naturally I had to ask for the recipe and I am so glad I did!
Ingredients
FOR THE CAKE
2 cups flour (250 grams)
3/4 teaspoon salt
2 teaspoons baking powder
1/2 teaspoon baking soda
1/2 teaspoon nutmeg
2 teaspoons cinnamon
2 cups sugar (400 grams)
1 1/4 cups vegetable oil (250 grams)
4 large eggs (room temperature)*
3 cups shredded carrots (approximately 3 large or 5 medium)
1/2 cup pecans (63 grams)
*remove from fridge 30-45 minutes before using.
FOR THE FROSTING
1/2 cup butter (softened)
5 ounces cream cheese (140 grams)
5 cups powdered sugar (600 grams)
1/2 teaspoon vanilla
1/4 cup half and half cream (60 grams)
EXTRAS
1/2 cup chopped pecans (63 grams)
Instructions
Pre heat oven to 350 degrees (180 degrees celcius), Grease and flour 2 8 or 9 inch cake pans (20 or 23 cm)
In a small bowl combine all dry the ingredients excluding sugar, carrots and pecans.
In a large bowl beat the oil and sugar together for 1 minute, then add the eggs and beat together another minute, add the dry ingredient mixture beating for another minute, add the shredded carrots and 1/2 a cup of the chopped nuts(if desired) combining together with a wooden spoon.
Pour into prepared cake pans and bake in pre heated oven for approximately 30-35 minutes, test for doneness with a toothpick, if a few crumbs stick to it or it is dry then the cake is done. Let the cake cool before removing from the pans.
FOR THE FROSTING
In a medium bowl beat together butter and cream cheese on medium-high speed until creamy approximately 1 minute. Lower speed to medium and add powdered sugar, 1 cup at a time, beat well after each addition. Add salt, half and half and vanilla and beat until fluffy, about 3 minutes.
Let the cake cool completely then ice with prepared icing. Top with chopped pecans if desired. Enjoy.