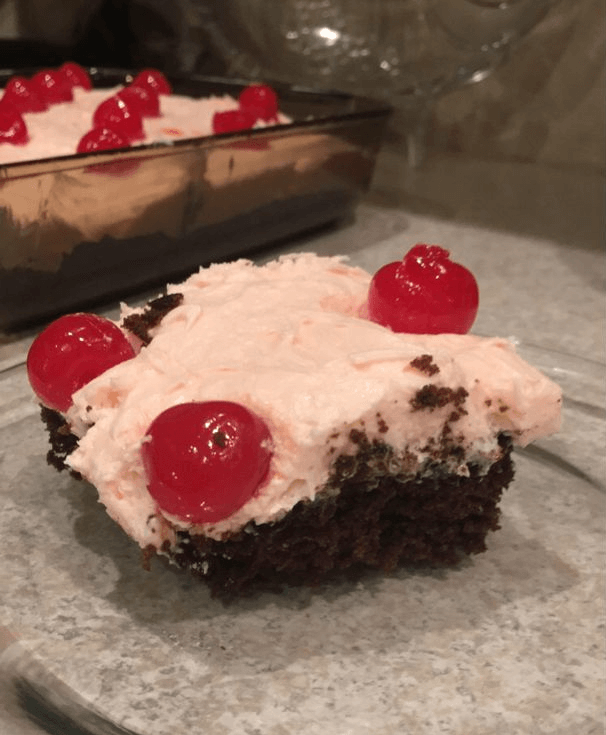 Our delicious Cherry Dr. Pepper Cake is bursting with outrageous flavor thanks to a unique ingredient, Cherry Dr. Pepper!
This cherry chocolate cake is super moist and crazy easy to make with just a cake mix and 5 other ingredients (including the homemade frosting!)
CHOCOLATE CHERRY DR. PEPPER CAKE (USES A CAKE MIX!)
This is a chocolate cake unlike any other chocolate cakes. It is super moist, and bursting with rich cherry flavor, thanks to the addition of Cherry Dr. Pepper soda. The chocolate and cherry combo makes for a decadent dessert that is totally irresistible!
You will be shocked at how moist and delicious this chocolate cherry Dr. Pepper cake is. The secret is none other than the added can of soda! That's right, the addition of Dr. Pepper is not only what gives this cake it's delicious flavor, but also it's amazing texture.
Adding soda to cake is an old trick. Doing this eliminates the need to add eggs, oil, or water. The soda is what ensures that the cake still rises by adding the liquid element that the powder needs to turn the mix into the perfect batter.
Ingredients
1 box chocolate cake mix, only using the dry mix
1 1/2 C Dr. Pepper Cherry Soda
1 jar maraschino cherries with no stem (Remove 24 cherries from the jar and set aside)
1 C unsalted sweet cream butter, softened
3 C powdered sugar, plus 2 more cups if needed
1 container of chocolate shavings (optional) (Found at Hobby Lobby)
Instructions
Cake Directions :
Preheat oven to 350F.
Spray a 9×13 baking dish with pam baking spray and set aside
Using a standing mixer, mix together the cake mix and soda until combined
Cut the cherries in half and mix into the batter
Pour the cake batter into the baking dish
Bake in the oven for 30 minutes or until a toothpick comes out clean
Allow cake to cool completely before frosting
Cherry Frosting Directions :
Using a standing mixer, cream together the butter, powdered sugar and cherry juice until combined and stiff
If your frosting is thin, add in another cup of powdered sugar
Scoop the frosting onto the cake and and smooth evenly with a angled spatula
Sprinkle the chocolate shavings onto the frosting and add a few cherries
Place into the fridge for an hour to allow the frosting to harden before cutting!
Enjoy!