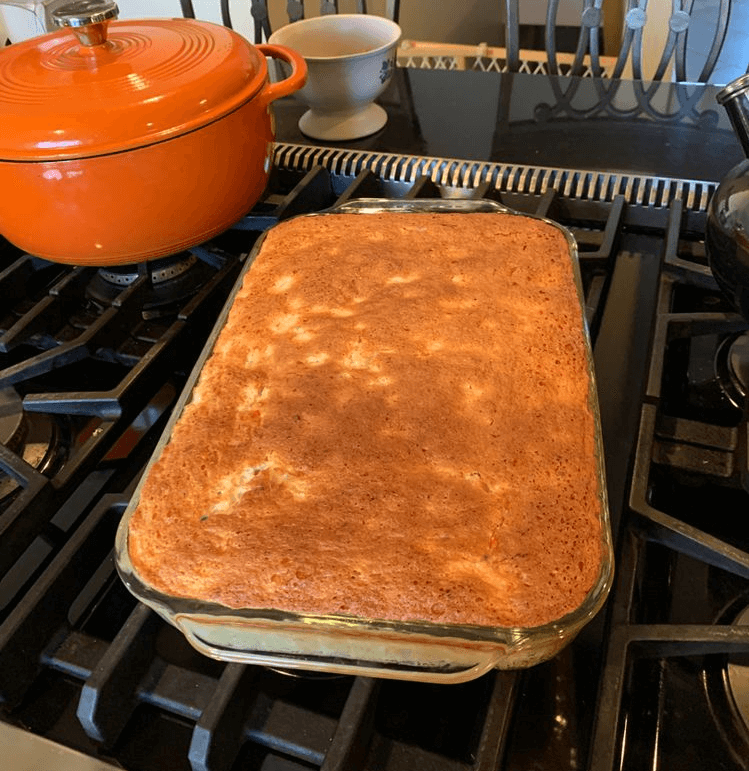 Do you remember the pineapple angel food cakes of the fat-free 90's? Well, although I do remember the low-fat Cool Whip strawberry yogurt pie of my youth, somehow I missed the light, tender and flavorful pineapple angel food cake. But now I'm making up for lost time!
I only learned of even the idea of a pineapple gluten free angel food cake when one very special reader named Michelle. Michelle is one of the amazing moderators of the Everything GFOAS Facebook group. She's been with me since, well, forever, and she introduced me to the concept and asked me to help her out.
The recipe was originally made as a two ingredient-style cake mix recipe, by adding a can of crushed pineapple to a box of angel food cake mix. I tried converting my gluten free angel food cake recipe to a mix using powdered egg whites and adding a can of crushed pineapple. It was a dense and gummy mess.
This three-ingredient recipe is delicious and so very easy due to the use of a cake mix and canned pineapple, and whipped cream dessert topping.
This cake is almost magical the way it mixes up into a light & airy cake in no time at all. Topped with whipped cream and sprinkled with toasted coconut, it's just heavenly!
DON'T WAIT READ BEST REVIEWS FOR THIS RECIPE
"This was absolutely delicious. I will make it again and again. Just one word of caution. Although the directions clearly stated 9 x 13 pan, I made it in a tube pan. The directions on the cake mix stated in big bold letters, DO NOT GREASE PAN, so I did't. BIG, BIG, MISTAKE. The cake stuck to the pan and came completely apart. Sooo, I just took the pieces, put them in a 9 x 13 pan and spread the Cool Whip topping over them. Everyone still loved it. I did add a small can of pineapple to the Cool Whip, along with a couple of drops of yellow food coloring, just for a little added touch. Thanks so much for posting this recipe."
"Super easy. I added 1/2 cup coconut as someone suggest, and think I'll add 1/2 tsp. rum extract next time. It did require about ten extra minutes in my oven. So, for those who had trouble with it falling, I would suggest to cook it until it is golden brown AND has an even surface. (If not done, the center appears higher than the sides.) It was so moist that I don't think you could easily dry it out by adding five or ten mintues to the baking time."
"This one gets 5 stars simply because it's not much more difficult than boiling water. I tried it just for the heck of it and took it to a party. It was so good I didn't bother frosting it with the Cool Whip and it wasn't missed. I recommend that we all keep a box of the cake mix and a can of the pineapple in the pantry for those "need something FAST" times."
You May Like 3, 2, 1 CAKE
"I found this recipe in a cookbook years ago and have made it several dozen times. A few tips to remember: Make sure your bowl mixing bowl is large. This batter more than doubles when you're mixing it. Also, DO NOT UNDERBAKE! The top needs to be dry & well browned. It will fall in the middle if underbaked. I usually make this in a 9×13″ pan & depending on the pan, my baking time greatly varies. The last time I made this, I also inverted the 9×13″ pan on two pieces of wood resting on the pan's handles just as you would a regular angel food cake. The results were perfect! **You can also substitute a 20 oz. package of sliced, frozen strawberries (thawed & with the juice) for the pineapple."
Ingredients :
1 – 16 ounce Angel Food Cake mix
20 ounces (1 can) crushed pineapple, in natural juice
8 ounces lite non-dairy topping or sweet whipped cream
1/2 cup toasted coconut (optional)
Directions :
Preheat oven to 350 degrees F.
In a large bowl, mix the Angel Food Cake mix & the crushed pineapple including juice, until blended. Note: The mixture will start to froth & then turn into this amazingly airy, fluffy mixture right before your eyes.
Pour the batter evenly into a greased 9″ x 13″ cake pan.
Bake at 350 degrees F for 30 minutes. Note: The cake needs to bake the full 30 minutes to insure that the center is done. The top of the cake will be a dark golden brown.
Cool completely and top with lite non-dairy topping or sweet whipped cream. Tip: With the back of a spoon lift the topping to make random little peaks (looks so pretty!).
Sprinkle with toasted coconut.
12 Servings
Source : allrecipes.Com