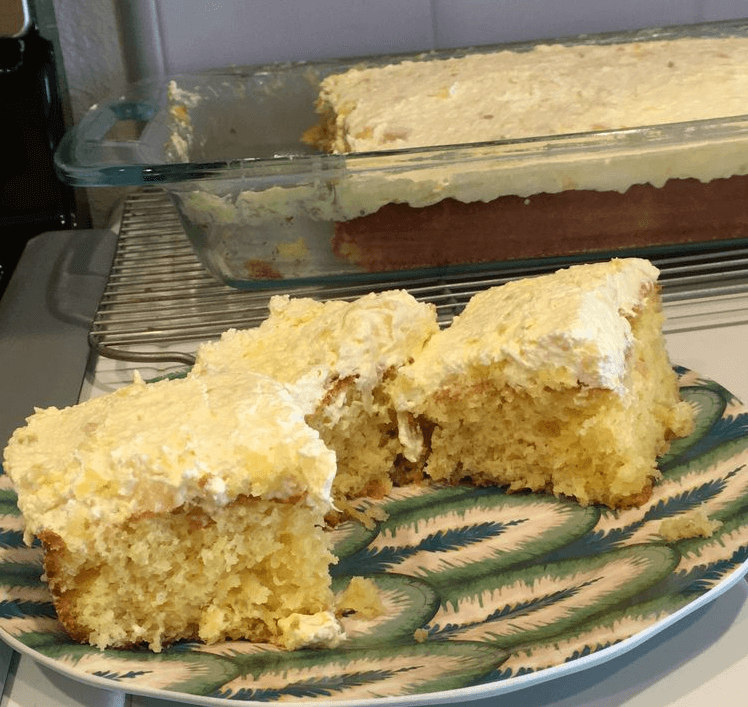 Pineapple Sunshine Cake – A light and fluffy pineapple cake topped with a soft and creamy whipped cream frosting. This cake is always a crowd pleaser!
Today's recipe is simple, easy and delicious. I wanted to share it with you before the weekend because it would be the perfect and easy addition to your Easter spread.
I received this recipe from one of the lovely ladies I worked with when we lived in Kansas. Let me tell you that my friends in the Midwest are cooks who make UH!
I always say that Southern food is my comfort food, but you know what? Kansas girls… now they know how to make good food!
I love making this Sunshine Cake for Easter or summer barbecues and it NEVER lasts long. When I made it earlier this week, my son took a piece of it from a corner before I could photograph it.
He came running up to me and said, "Mom! This cake is the best in the whole world!"
It was hard to blame him for stealing the cake with such a sweet comment. He has to learn how to butter me up.
😉
Ingredients
Cake :
1 can of yellow cake mix
4 eggs
1/2 cup of oil (I used vegetable oil)
1 can of crushed pineapple with its juice
Icing :
1 container of 8 oz of whipped topping, thawed
1 small box of instant vanilla pudding
1 can of crushed pineapple with its juice
Instructions
Preheat the oven to 350 degrees. Spray a 9×13 pan with cooking spray.
In a large bowl, mix the cake mix, eggs, oil and a can of crushed pineapple with the juice. Mix well.
Pour into prepared pan and bake for 25-30 minutes, or until a toothpick inserted in the center of the cake comes out clean. Cool completely on a wire rack.
In a medium bowl, combine the whipped topping, can of vanilla pudding and a can of crushed pineapple with the juice. Spread on top of cooled cake. Enjoy!