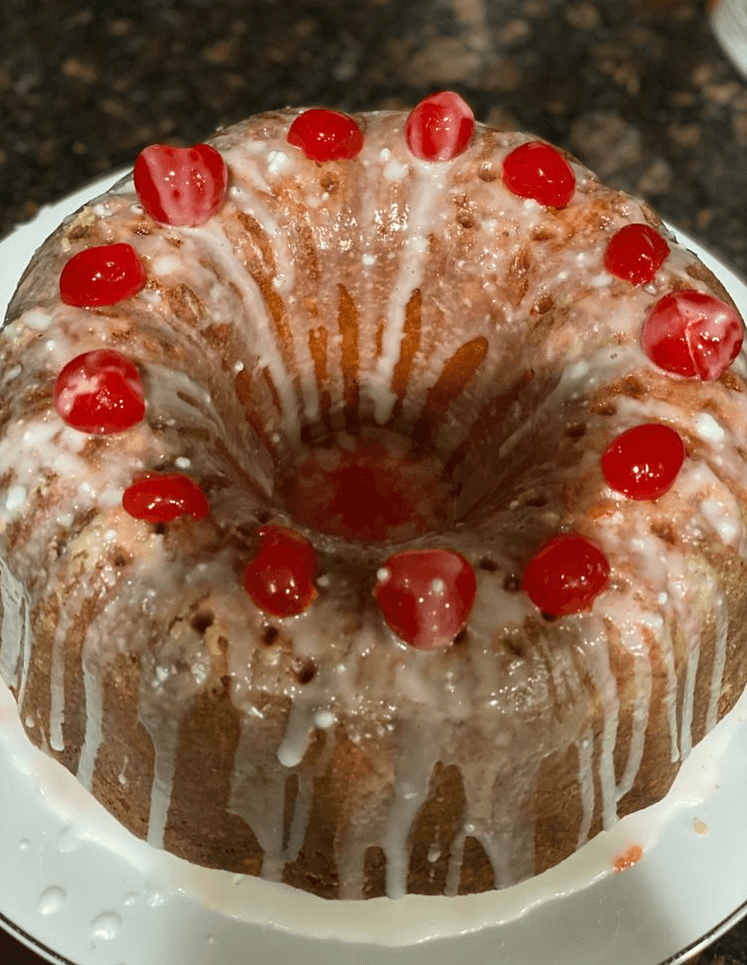 Do you have a birthday party or baby shower coming up? Looking to serve something a little whimsical and nostalgic at the same time? Then look no further than this wonderful recipe based on one of our favorite treats from when we were kids: a Shirley Temple cake.
Yes! The beloved cherry colored pop has been transformed into an incredibly pink, moist and delicious cake!
We all know that to make a Shirley Temple, you need maraschino cherries and lemon-lime soda. The cherries contribute to the color and flavor while, at least in the cake version, the bubbles in the soda help keep the cake moist and delicious. A slightly pink cake comes out of the oven and cools completely before being covered with a pretty pink glaze. To serve, we add a dollop of whipped cream and, of course, a maraschino cherry. This is a fun take on one of our favorite childhood drinks.
We had completely forgotten about this delicious non-alcoholic drink until we stumbled upon this CAKE recipe and couldn't believe how much fun it could be. A favorite soft drink turned into a fun cake sounds like the perfect treat for a baby shower or birthday party. It's just the right amount of fun and nostalgia, served with a cherry on top!
Shirley Temple Cake
1 hour preparation time for 10-12 people
INGREDIENTS
1 can (16 oz.) white cake mix
1 ¼ cups lemon-lime cherry flavored soda
⅓ cup vegetable oil
4 egg whites
4 cups powdered sugar
⅓ cup maraschino cherry juice
1 teaspoon vanilla extract
1 ½ sticks cold butter, cut into cubes
Whipped cream and maraschino cherries for garnish.
PREPARATION
Preheat oven to 350°F. Lightly grease a 9×13 inch baking dish with cooking spray and set aside.
Combine cake mix, vegetable oil, egg whites and cherry lime soda. Pour batter into prepared baking dish and bake for 25 to 35 minutes or until a cake tester inserted into the center of the cake comes out clean.
Remove cake from oven and allow to cool completely before frosting.
To make the icing, combine the powdered sugar, cherry juice and vanilla extract in a bowl. Slowly add the butter and beat until smooth and fluffy. Spread glaze over cooled cake.
To serve, add a dollop of whipped cream and garnish with a maraschino cherry.