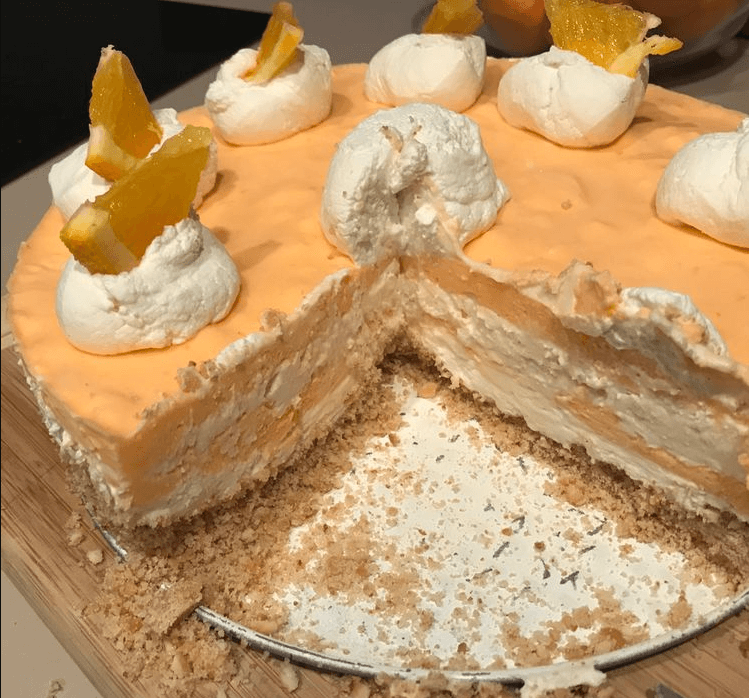 If you are a fan of Creamsicles, you are going to want to make this No Bake Orange Creamsicle Cheesecake this summer. You will find a delicious Nilla Cookie crust with layers of orange creamy cheesecake filling. Perfect for summer picnics and BBQ's.
I love making no bake cheesecakes. They are so simple to make and always tastes so delicious. During the summer months, I am one who does not like to turn on my oven. So no bake desserts are always best. No need to heat up the house or myself, ha ha. Light and fruity desserts are always great when warm weather hits. I serve them when we have our summer BBQ's. If you need a great summer dessert for a potluck, picnic, or BBQ, you will want to make this. Trust me…. everyone will LOVE it!
This No Bake Orange Creamsicle Cheesecake will be made MANY of times in my kitchen this spring and summer. As you can see from the pictures, it looks light and dreamy and so impressive, sort of like a Creamsicle Bar. Since my family loves Creamsicle bars, I knew they would enjoy this amazing dessert.
Ingredients
11 oz Vanilla Wafer Cookies
1 1/2 cup Sugar divided
4 tbsp melted Butter
16 oz Cream Cheese softened
16 oz Heavy Cream
1 3.3 oz box Orange Gelatin
1 cup boiling Water
Zest from 1 Orange
1/4 tsp Vanilla Extract
1/2 cup Powdered Sugar
Instructions
Put vanilla wafers in food processor and pulse until finely chopped.
Add 3/4 cup sugar and melted butter and pulse to incorporate.
Grease bottom and sides of 9″ spring form pan.
Press mixture into bottom and slightly up sides of pan.
Place in freezer for 30 minutes.
Beat cream cheese and remaining sugar until smooth.
In a medium bowl, combine gelatin and boiling water. Whisk until dissolved.
Set aside.
Zest orange and set aside.
Whip heavy cream, powdered sugar and vanilla until stiff peaks form.
Add 1/2 of whipped cream mixture to cooled gelatin and add orange zest. Whisk to blend. Set aside.
Fold remainder of whipped cream mixture into cream cheese mixture.
Spread 1/2 cream cheese mixture over crust.
Pour 2 cups of orange whipped cream mixture over cream cheese mixture.
Gently spread remaining cream cheese mixture over orange mixture.
Pour remaining orange whipped cream mixture over cream cheese mixture.
If desired, take a butter knife and gently glide through cream cheese layers to swirl.
Refrigerate for at least 6 hours.