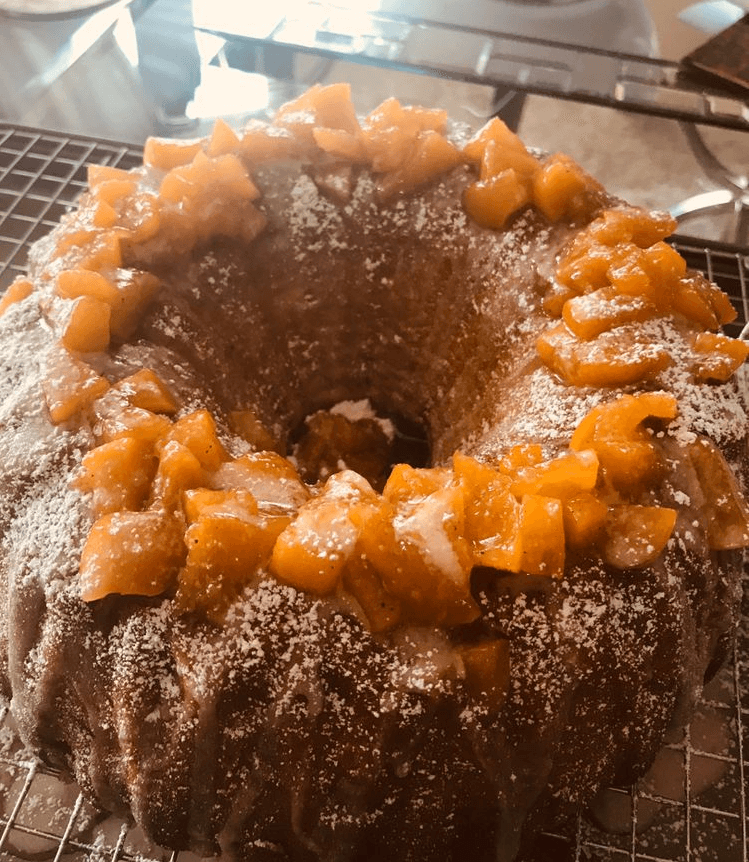 Sometimes you need a cake that looks as lovely as it tastes. Sometimes you need a cake that you can slice and serve in little more than an hour. Sometimes you just need cake. Any cake. Well, we've got good news. No matter your cake needs, this Sour Cream Peach Pound Cake meets them. It's buttery and velvety, with a crumb that's delicately flavored with vanilla and dotted with sweet, fresh peaches. And it's a cinch to make. Take a look.
The cake is a basic pound cake recipe, with some sour cream added in. The result is a moist and smooth texture with a subtle tang. The chopped, fresh peaches are suspended in the batter like little jewels, and the whole thing is finished with the simplest glaze that sets off the sweetness perfectly.
We love simple cakes like this, and we especially love it when they hit that balance of sweetness so perfectly. A simple cake shouldn't be cloying or fussy, and this one is neither. It's at home at a cookout, alongside some afternoon tea, and dare we say as a quick slice for breakfast.
As far as we're concerned, life is just too short to say no to cake and there's no reason to say no to a cake that's as easy and delicious as this. So go get baking!
Peach Pound Cake
1 hour 15 minutes to prepare serves 10
INGREDIENTS
3 cups all-purpose flour
1/2 teaspoon salt
1/2 teaspoon cinnamon
1/4 teaspoon baking soda
2 1/2 cups sugar
1 1/2 cups (3 sticks) unsalted butter, softened
6 eggs
1 cup sour cream
1 teaspoon vanilla extract
1 teaspoon almond extract
2 cups fresh peaches, peeled, pitted, diced
Glaze:
1 1/2 cup powdered sugar
2 tablespoons milk, plus more, as needed
1/2 teaspoon almond extract, optional
PREPARATION
Preheat oven to 325º F and lightly grease a standard bundt pan with butter or non-stick spray.
In a medium bowl, whisk together flour, salt, cinnamon and baking soda until thoroughly mixed together.
In a large bowl or mixer, cream butter for 1-2 minutes, until fluffy, then add sugar and cream together for another 3-4 minutes.
Working one at a time, beat in eggs until incorporated, then mix in vanilla and almond extracts.
Beginning and ending with dry ingredients, alternate between adding flour mixture and sour cream to batter, beating until just combined, then fold in diced peaches.
Pour batter into greased bundt pan (it's okay if it's thick), being sure to only fill then spread into an even layer.
Place in oven and bake for 80-100 minutes, or until toothpick inserted in center comes out mostly clean.
Remove from oven and let cool.
Make glaze by whisking almond extract and milk (one tablespoon at a time) into powdered sugar. Pour over cooled cake and let set.