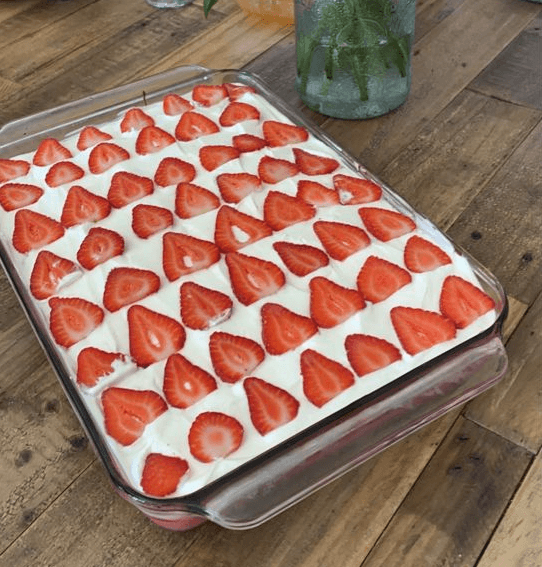 The Strawberry Poke Cake is a white cake, soaked in a blend of strawberry white chocolate sauce, topped with strawberry tart filling and creamy whipped cream.
Poke Cakes are very popular on the blog because they are very easy to prepare, look great and taste great. By popular demand, we have added some other delicious Poke Cakes to the collection, such as the Pumpkin Poke Cake, German Chocolate Poke Cake and Baileys Poke Dessert.
Best Strawberry Jelly Poke Cake
The best strawberry cake I've ever had, hands down! This homemade dessert is actually a dream come true, if you allow me to make a comparison with cheese, I would say it's probably what angels eat!
Ingredients
1 can of white cake mix (plus ingredients to prepare the mixture)
Ingredients usually called for the preparation of the cake :
3 egg whites
1 cup of water
1/3 cup vegetable oil
Strawberry white chocolate mix :
14 oz of sweetened condensed milk
3/4 cup white chocolate chips
1 package (3 oz. strawberry-flavoured JELL-O gelatin)
1/4 cup of hot water
Other ingredients :
2 cans (21 oz each of strawberry pie filling)
2 cups of heavy whipping cream (full of fat and cold)
2 tablespoons of sugar
1 teaspoon vanilla extract
10-15 fresh strawberries (sliced)
Instructions
Prepare the white cake :
Preheat the oven to 350F.
Grease and dust a 9 x 13 inch cake pan with flour.
Prepare the white cake mix according to the instructions on the box. Pour batter into prepared pan and bake for about 25-30 minutes, or until a toothpick inserted in the center comes out clean. Let cool for 10 minutes and, using the bottom of a wooden spoon, poke holes all over the cake.
White chocolate and strawberry mixture:
In a medium microwave-safe bowl, mix white chocolate chips and sweetened condensed milk. Microwave for about 1 minute, stir and heat for 30 seconds or more if necessary. Stir until completely blended, smooth and shiny.
Stir the strawberry gelatin mixture into the hot water. Make sure it dissolves, otherwise it will be grainy. Stir the strawberry mixture into the condensed milk mixture until completely mixed and smooth.
Pour the chocolate strawberry mixture over the whole cake and, using a spatula, spread it evenly into the holes.
Let the cake cool completely and refrigerate for about an hour.
Additional layers :
Cover the cake with strawberry tart filling if using a strawberry tart filling.
Whipped Cream :
In a large bowl, beat heavy cream, sugar and vanilla extract until stiff peaks form.
Using a spoon, spread the whipped cream all over the cake and spread with a spatula.
Garnish:
Garnish the cake with sliced strawberries.
Refrigerate the cake for at least 8 hours or better overnight before serving.