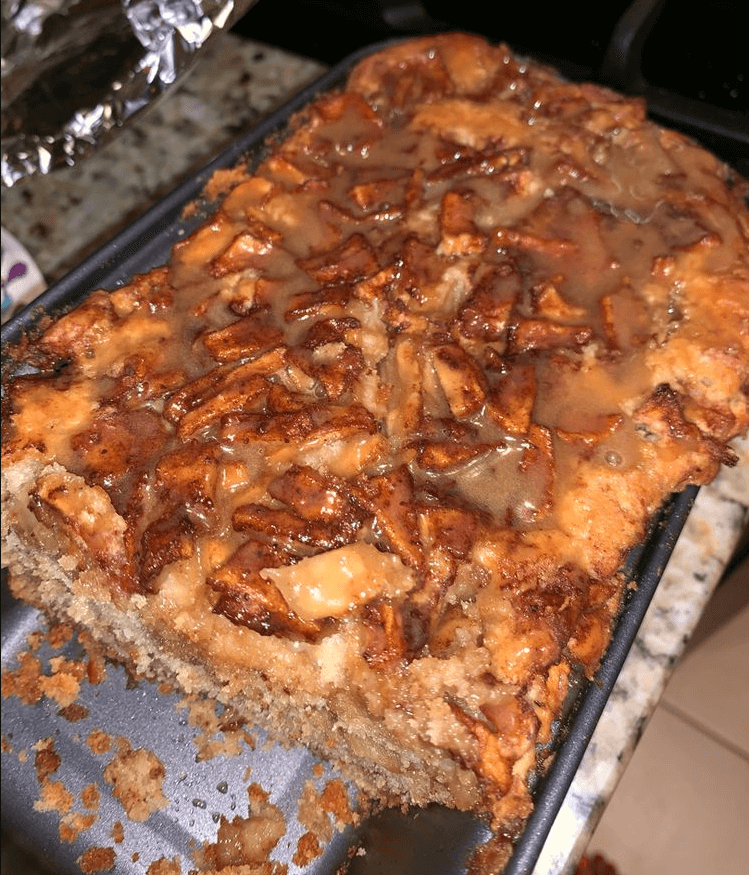 Cinnamon and apple have a nice little friendship, don't they? They lift each other up like only true friends do. And while they're completely different things when they're apart, together they're their own flavor entity: apple-cinnamon. Just speaking that word brings to mind the combo of cozy, warm spice and tender, sweet apples. And that combo (with an added sidekick of chopped walnuts for a bit of crunch) is just the pair to flavor a simple everyday cake like this one.
We consider an "everyday" cake to be a cake that comes together in one bowl, takes less than 15 minutes to get in the oven, and doesn't need any frosting. You know, the kind that would easily pass for a quick bread if it were baked in a loaf pan? That's what this is. You can bake it in any kind of pan you like, and eat it as a snack or a casual dessert, or even sneak a piece in for breakfast… It doesn't really matter. We just know it's good!
This cake has a moist and tender crumb and is strong in cinnamon flavor. It isn't overrun with apples – there's just enough to keep it moist and flavorful – but make sure you chop them pretty well; you don't really want big chunks here. It's a straightforward cake. Simple to make, easy to enjoy, and flavored with a classic combination of sweetness and spice. It's everything nice!
INGREDIENTS
2 cups all-purpose flour
1 large apple, peeled and chopped
1 cup vegetable oil
1 cup dark brown sugar
1/2 cup granulated white sugar
1/2 cup walnuts, chopped
2 large eggs
1 tablespoon ground cinnamon
1 teaspoon vanilla extract
1/2 teaspoon baking powder
1/2 teaspoon baking soda
1/2 teaspoon salt
PREPARATION
Preheat oven to 350°F and lightly grease a 9-inch round cake pan.
In a medium bowl, mix together the eggs and oil. Add the cinnamon, white and brown sugars, and vanilla extract and mix until combined.
Add the flour, salt, baking soda, and baking powder, and mix until thoroughly incorporated. Fold in the apples and the nuts and pour batter into prepared pan.
Bake until a toothpick inserted into the center comes out clean, about 45 minutes. Let cool for 15 minutes before slicing and serving. Enjoy!