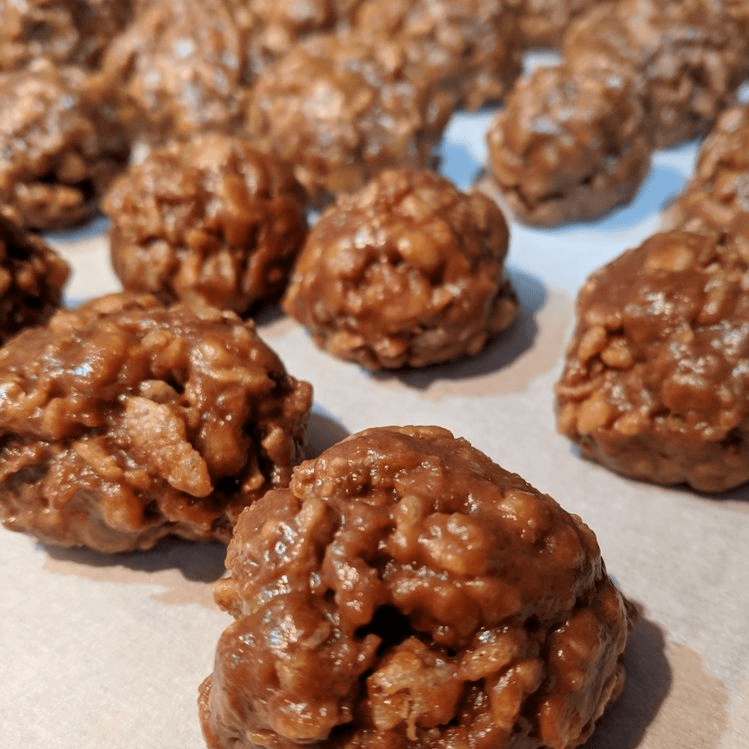 These No-Bake Krispie Reese's Cookies are the BOMB! Everyone will rave about these and they are SO easy to make! My boys are convinced that this is the best cookie recipe ever…..It's so hard to eat just one!
I remember having these as a kid and these were always such a hit with everyone! We will definitely be adding these to our Christmas cookie tray this year and they are so easy to make! Honestly we love just about anything using Reese's, but this recipe is definitely the winner of all of them.  This is a great way to use left over Halloween candy. You could also try other candy bars with this recipe…Butterfingers would be a good one to try!
No-Bake Krispie Reese's Cookies
While I know multiple people who could seriously make a living as professional bakers, personally, I don't even try. I'm an OK-ish cook, but dessert? The cake will be dry, and those cookies are definitely going to be stuck to the parchment paper.
That's why my go-to recipe when I have to make a dessert is no-bake cookies. While I won't go as far as to say you can't mess them up, they are definitely easier than other cookies if you pay attention to what you're doing.
Of course, bringing the same dessert to parties can get a bit old, so I can't tell you how excited I was when I found what is sure to be the solution to my always-bringing-the-same-cookies problem: no-bake Reese's Krispy cookies!
Ingredients
1 cup sugar
1 cup corn syrup
1 1/2 cup creamy peanut butter
4 1/3 cup Rice Krispies
1 cup chopped Reese's Peanut Butter cups, chopped (I used the mini ones and quartered them but you can use any size)
1/3 cup semi-sweet chocolate chips
Directions
Melt sugar, corn syrup and peanut butter in a saucepan over medium heat. Stir until smooth and then remove from heat. Add the Rice Krispies and stir to combine. Add the chocolate chips and stir until well mixed. Wait 1-2 minutes and then add the chopped Reese's cups, gently folding them in so that you don't smash them too much. Drop rounded teaspoons (I used a cookie scoop) of the mixture onto a cookie sheet lined with wax paper. Let cool and then enjoy!
Products that will help you re-create this recipe at home:
Nonstick 1-quart saucepan
Reese's Mini Peanut Butter cups
All Natural wax paper