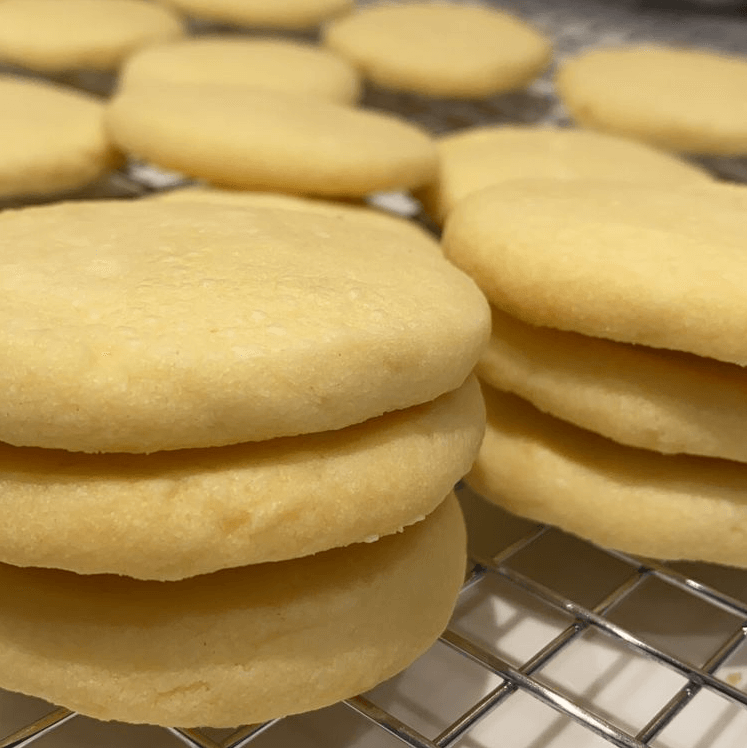 I'm a firm believer that shortbread cookies should be sinfully buttery and delectably tender, and this shortbread recipe is exactly that. It's simply perfect – and it looks as good as it tastes.
With the signature delicate crumbly texture and beautiful buttery flavour, shortbread is one of those biscuits that is both nostalgic and elegant. It's right at home with a casual coffee catch up with friends, or an elegant tea party to impress!
Ingredients
250g / 8 oz salted butter, softened (2 x US sticks, 1 cup) (or unsalted + ¼ tsp salt)
3/4 cup (90g) icing sugar (powdered sugar) (Note 2)
2 cups (300g) plain / all purpose flour
Instructions
Preheat oven to 160C/325F (standard) or 150C/300F (fan forced / convection).
Butter and line a 31.5 x 23.5 cm / 9 x 13″ pan with baking paper with overhang.
Beat butter until smooth (or use very soft butter and a wooden spoon). Add icing sugar and beat until combined.
Add half the flour and beat until mostly combined – it will resemble wet sand. Then beat in the remainder. Use your hands to bring it together into a smooth ball of dough – knead lightly if required.
Roughly press down into a rectangle shape, then transfer into the pan. Press into the pan. Optional: Roll over the top using a small rolling pin or glass (that's what I used) for a smooth surface. Don't press down too hard – it makes the cookies firmer
Bake for 20 minutes until edges are very light golden and most of the surface is still pale gold.
Remove from the oven. Working quickly, cut into desired shape (I do 8 x 3 bars, like Walker's shortbread biscuits) and prick all over with a fork (optional).
Return to the oven for 8 minutes or until the surface is light golden – not browned. Turn the oven off, crack it open ajar, then leave to cool for at least 1 hour in the oven.
Remove from the oven, use paper overhang to remove the biscuits from the pan. Cool fully on rack. Serve with tea!!