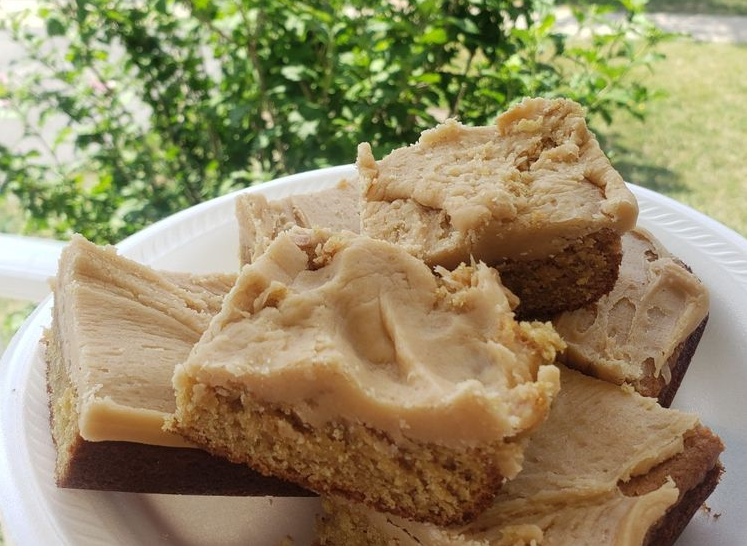 Baking cookies in a sheet pan is a magical thing – the recipe is simple to make and allows you to feed a crowd without having to hand out individual spoonfuls of dough. Our childhood table lady knew all the tricks to feeding a hungry crowd, so we took our inspiration from her with our Peanut Butter Lunch Lady cookie bars (although our food hopefully tastes a little better than the standard dining room fare).
If your usual dessert at home is to pick up something at the grocery store, we suggest you try some homemade cookie bars. Of course, store-bought treats take some of the pressure off the front desk, but once you see how easy it is, you may never go back. Although we usually go for chocolate, we love a good cookie sheet, no matter what the flavour. We're rarely the type to turn down something sweet! We chose peanut butter for our last cookie bars and it was the right decision. It was absolutely delicious!
We covered these cookie bars with peanut butter frosting, which is sweet but goes great. You can't have too much peanut butter. If you want a little more contrast, you can use chocolate icing – but we're getting ahead of ourselves. Peanut butter desserts are pretty delicious – of course we like the sweetness, but the salty touch really adds something special. The salty and sweet really go together in dessert heaven, and our peanut butter cookie bars bring the best of both worlds together in one sheet.
So these are really really good. Add more peanut butter if that's your thing after tasting the mixture (I did no problems with that). Really tasty! I used candied cherries from last Christmas for the red & green. Wish I'd gotten a picture but no time for that before they had to be out the door and on their way to a meeting! Thanks for the recipe. P.S. I used parchment paper (and Pam spray on that too) bc no matter what you do to tinfoil it will sometimes stick. It's not trustworthy with sticky baked goods IMO!
INGREDIENTS
2 cups of flour
2 cups of sugar
2 large eggs, beaten
1 ½ cup peanut butter, divided
1 ½ cups (3 sticks) unsalted butter, softened
½ cup milk + 2 tablespoons, divided
1 teaspoon baking soda
1 teaspoon vanilla extract
1 teaspoon of salt
4 cups powdered sugar
PREPARATION
Preheat oven to 400°F. Grease a large cookie sheet or line it with parchment paper.
Mix dry ingredients: flour, sugar, baking soda and salt. Set aside.
Whisk together ½ cup milk, vanilla extract, eggs. Set aside.
In a saucepan, melt 1 cup (2 sticks) of butter and 1 cup of peanut butter, bring to a boil. Remove from heat and slowly add the flour mixture, then the milk/egg mixture. Stir until well blended.
Pour the dough onto the cookie sheet, spreading it evenly around the edges. Bake for 20 minutes or until a toothpick inserted in the center comes out clean. Cool completely before glazing.
For icing: In a saucepan, bring 1 stick of butter and ½ cup peanut butter to a boil. Add 2 tablespoons of milk and slowly stir in powdered sugar until well blended. Pour the icing over the cake, spreading it evenly around the edges. Allow the icing to cool and set before serving.