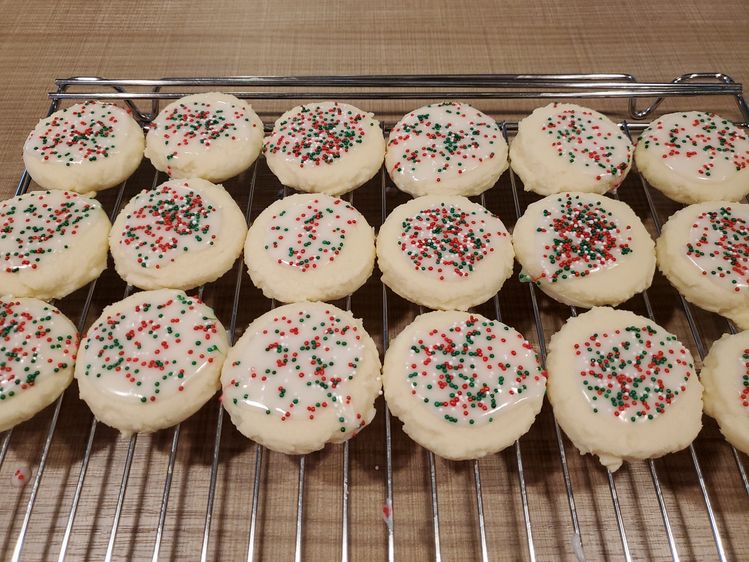 Meltaway cookies are a chewy, melt-in-your-mouth shortbread cookie. They are often rolled in granulated sugar before baking to give them a light coating of sweetness. The dough is also rolled in powdered sugar after they have cooled which adds to their irresistible texture and flavor.
Meltaway cookies are traditionally dipped into hot tea or coffee for ultimate enjoyment.
INGREDIENTS
Cookies:
 3/4 cup (1 1/2 sticks or 12 Tbsp) unsalted butter, room temperature
 1/2 cup powdered sugar
 1/2 cup cornstarch
 1 tsp vanilla
 1/4 tsp salt
 1 cup all-purpose flour
Glaze:
 1 1/2 cups powdered sugar
 3 to 4 Tbsp milk
 1/4 tsp vanilla or almond extract
Optional:
 red & green sprinkles/nonpareils
INSTRUCTIONS
Preheat oven to 350 degrees Fahrenheit.
In the bowl of a stand mixer with the paddle attachment cream the butter with the powdered sugar and cornstarch. Add vanilla. Mix well.
Combine the salt and flour. Add to the batter. Mix until dough clumps together.
Scoop cookie dough onto silicone lined baking sheets. Flatten dough balls with the bottom of a measuring cup dipped in powdered sugar.
Bake at 350 degrees Fahrenheit for 8 to 12 minutes until just set. Do not over-bake.
Whisk together the ingredients for the glaze adding extra milk 1 tsp at a time until desired consistency. (Keep it slightly thick, a little milk goes a long way.) Spoon on top of cooled cookies.
Immediately shake sprinkles on top of wet glaze. Allow glaze to harden. Store cookies in an airtight container up to 5 days.
NUTRITION INFORMATION:
Yield: 20 Serving Size: 1 cookie
Amount Per Serving: Calories: 89Total Fat: 1gSaturated Fat: 0gTrans Fat: 0gUnsaturated Fat: 0gCholesterol: 2mgSodium: 38mgCarbohydrates: 19gFiber: 0gSugar: 11gProtein: 1g