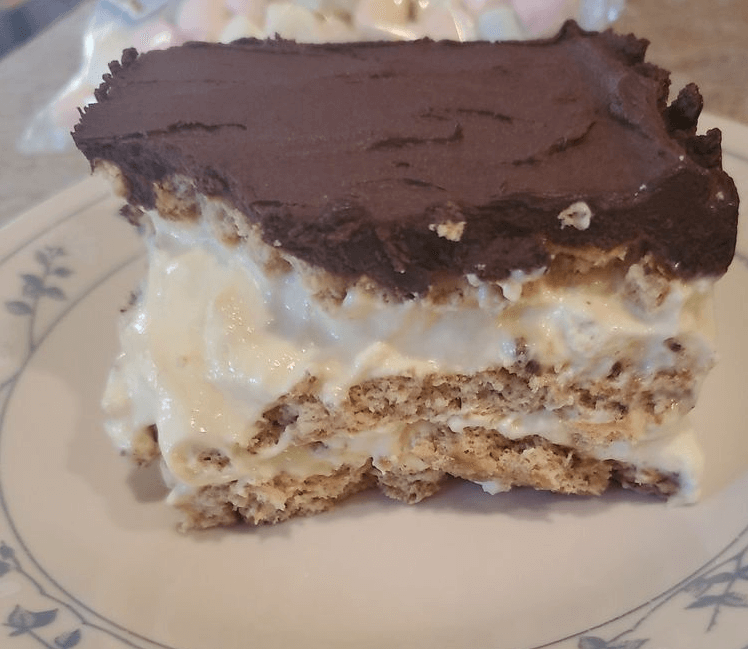 This Eclair cake is not only simple to make but also absolutely delicious. There is no need for a stove or oven! The most difficult part? Waiting to eat it! It's a great dessert for a crowd.
CAN I USE DIFFERENT FLAVORS FOR ECLAIR CAKE?
It's very easy to change flavors. You could use chocolate cookies and vanilla pudding. You can replace the vanilla pudding with chocolate or cheesecake pudding. So many flavour combinations you can experiment with! I've seen people use strawberry pudding with strawberry frosting. Or cheesecake pudding with strawberry frosting. There are a lot of options here!
Ingredients
2 packets (3.5 oz.) vanilla instant pudding mix
1 container of whipped topping (COOL WHIP) defrosted
3 cups of milk
2 square sleeves of graham crackers
1 tub of chocolate icing
Instructions
In a medium bowl, mix pudding mix, milk and Cool Whip.
In a 9 x 13 baking dish, place a single layer of graham cracker squares on the bottom. You may need to break them up a bit to get enough cookies to cover the bottom of your baking dish.
Spread half of the pudding mixture over the crackers.
Place another layer of graham crackers on top of the pudding mixture.
Next, spread the other half of the pudding mix on the crackers.
Cover with a final layer of graham crackers.
Put plastic wrap on the dish and refrigerate for about 30 minutes to an hour to allow the pudding to set.
Once ready, place the chocolate icing tray in the microwave for about 15 seconds to soften (remove the lid and foil before microwaving).
Remove and stir the icing. It should now be easy to spread.
Remove the plastic wrap from the dish and spread the chocolate icing evenly over the top layer of graham crackers.
Place the plastic wrap over the top of the dish and return it to the refrigerator and let it cool overnight.
This dessert will improve over time. Graham crackers take a long time to soften.
When they are ready, slice them and serve them!