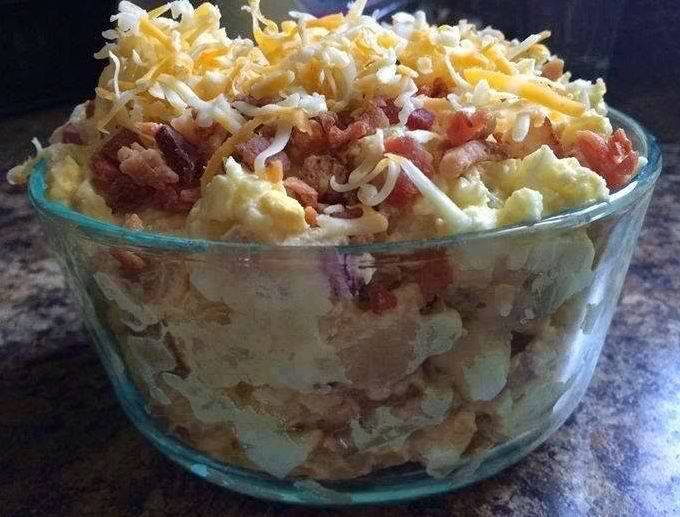 You guys, I am so excited to share this fabulous recipe with you that found over on the Making Miracles blog. The blogger, Rebekah Rose, has some of the BEST recipes I've EVER seen! Her photo of this yummy loaded baked potato salad is what instantly got me to click on her recipe. Just look at that beauty of a loaded baked potato salad! Talk about side dish heaven! Anyway, thank you so much, Rebekah Rose for sharing your awesome loaded baked potato salad recipe with the rest of us hungry people.
Whenever I need a great recipe I'm totally heading over to the Making Miracles blog to find one. Rebekah rose delivers when it comes to recipes. I can't even begin to praise her enough! She takes simple ingredients and turns them into masterpieces. Doesn't that sound amazing? Seriously, head on over to her blog and check out the yummy goodies for yourself!
Are you eagerly awaiting the details on how to prepare this delicious recipe? Wait no longer! Simply hop on over to the next page for a complete list of ingredients and instructions. Enjoy!
Ingredients
8 medium Russet Potatoes
1 cup sour cream
1/2 cup mayonnaise
1 package of bacon, cooked and crumbled
1 small onion, chopped
Chives, to taste
1 1/2 cups shredded cheddar cheese
Salt and Pepper to taste
How to make this recipe
Wash and cut the potatoes into bite-sized pieces. Cover with water and boil until fork tender, about 20-25 mins. Drain and cool the potatoes. Once they're cool, mix the mayo and sour cream. Add the onions, chives, and cheese. Salt and pepper to taste. Top with extra shredded cheese and bacon and serve.