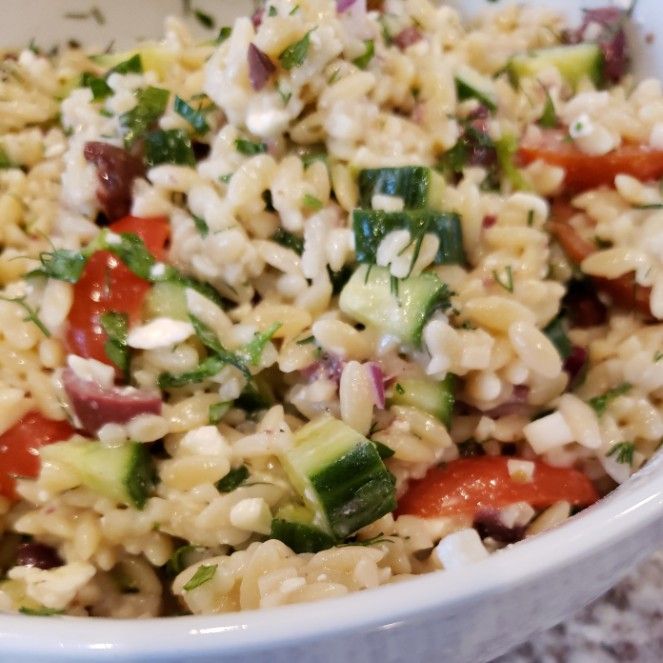 A delicious, colorful salad, with artichoke hearts and feta. I receive a lot of requests for this one.
Instead of using the artichoke marinade. Use 6 tbsp olive oil, 5 tbsp red wine vinegar, 1 tablespoon lemon juice and 2 teaspoon dried oregano
I made it exactly as the recipe said, except maybe just a little bit less red onion. I didn't do as the other responders did and add balsamic vinegar or anything. I wanted to try it as posted first. I don't think I'll ever change it.
This is my #2 all time fave from this site, second only to the Brown Sugar Meatloaf. As are many others, I am guilty to modifications based on what I have in the house, as well as taste preferences.
I LOVE this salad!!! I am guilty of making a bit of changes though based on my tastes. I omitted the cherry tomatoes and the red onion and instead used 6 sundried tomatoes.
Ingredients :
1 ½ cups uncooked orzo pasta
2 (6 ounce) cans marinated artichoke hearts
1 tomato, seeded and chopped
1 cucumber, seeded and chopped
1 red onion, chopped
1 cup crumbled feta cheese
1 (2 ounce) can black olives, drained
¼ cup chopped fresh parsley
1 tablespoon lemon juice
½ teaspoon dried oregano
½ teaspoon lemon pepper
Directions :
Step 1
Bring a large pot of lightly salted water to a boil. Add pasta and cook for 8 to 10 minutes or until al dente; drain. Drain artichoke hearts, reserving liquid.
Step 2
In large bowl combine pasta, artichoke hearts, tomato, cucumber, onion, feta, olives, parsley, lemon juice, oregano and lemon pepper. Toss and chill for 1 hour in refrigerator.
Step 3
Just before serving, drizzle reserved artichoke marinade over salad.