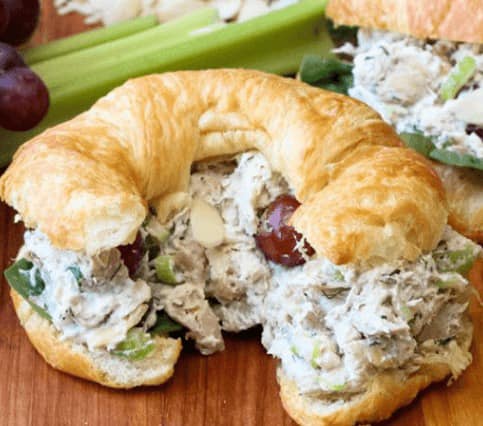 This Best-Ever Chicken Salad recipe is really the perfect go-to chicken salad for sandwiches or on top of a green salad. You could easily add crumbled bacon, or raisins, or cashews, or even mix in a little curry powder to the mayo. Of course, homemade mayo puts this salad over the top. But again, a good quality store-bought mayonnaise works perfectly well, too. For a chicken salad that's guaranteed to be a total winner, look no further! This chicken salad is wonderfully creamy without being overly wet, it isn't too sweet or too tangy, and it incorporates the perfect balance of flavors. Chicken Salad is a simple and easy go-to lunch around here! A classic chicken salad recipe combines tender chicken with the perfect blend of flavors and add ins.
It's great served on a bed of lettuce, in a sandwich or rolled up in a tortilla for a delicious meal on the go! Classic Chicken Salad is the PERFECT combo of seasoned chicken breast, creamy mayonnaise, lemon juice and crunchy celery, ready in just minutes! This is the best chicken salad I have ever had in my life and it is so simple to make. The chicken breasts used here must be bone-in, but you can remove the skin if you prefer. The skin and bones flavor the cooking liquid, providing a bonus of several pints of chicken stock.
To Make this Recipe You'Il Need the following ingredients:
Ingredients
3 – 4 lbs of chicken parts (bone-in, skin-on thighs and breasts work well)
2 tablespoons quality olive oil
1 cup of seedless grapes, sliced in half (red and green varieties are great)
1 cup almonds, thinly sliced (optional)
1 celery stalk, sliced
4 scallions, thinly sliced, white and green parts
2 tablespoons fresh dill, chopped
1 tablespoon fresh parsley, chopped
1 cup mayonnaise
Juice of 1 lemon
1 tablespoon Dijon mustard
1 teaspoon Kosher salt (start with 1/2 teaspoon, then add more, to taste)
Freshly ground pepper
Directions
Instructions
Pre-heat oven to 350 F.
Rub oil all over the chicken pieces and sprinkle with salt and pepper.
Bake for 35 to 45 minutes (internal temp should reach 165 F). .
Remove the chicken, let cool, then pull the meat from the bones and roughly chop.
In a large bowl, mix together the chicken, grapes, almonds, celery, scallions, dill & parsley
In a small bowl, mix together the mayonnaise, lemon, mustard, salt and pepper.
Add the mayonnaise mixture to the chicken mixture, and gently stir until will mixed.
Refrigerate for at least an hour.
Serve on a bed of green leaves with sliced tomatoes and avocado. Or, serve on bread with green leaf lettuce. Add more toppings to your taste!