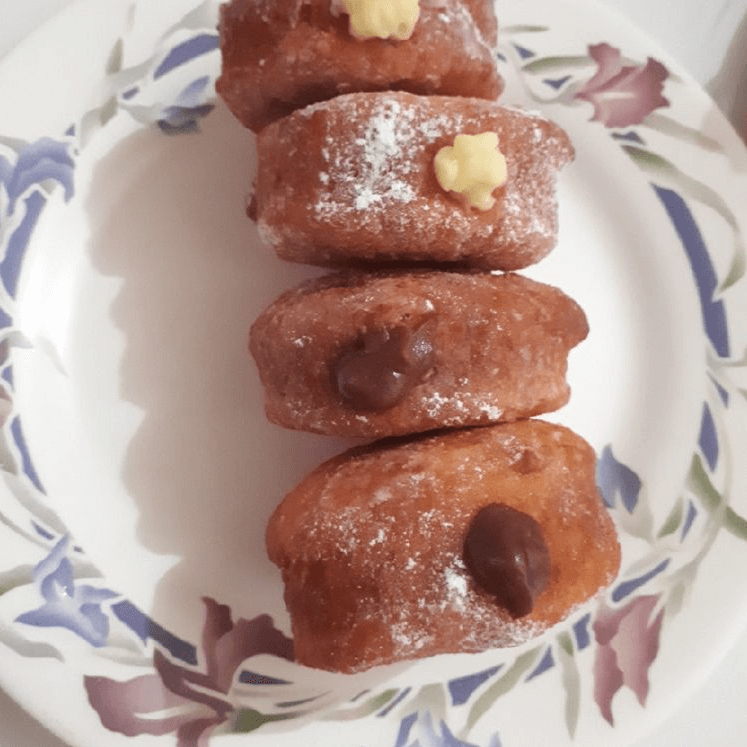 Sweet and light Italian Bomboloni Doughnuts rolled in sugar and filled with Italian pastry cream (crema pasticciera). These doughnuts are incredibly delicious and make such a special treat!
Unless they are filled with a thick Italian pastry cream (crema pasticciera) made of limoncello, this is pure heaven!
I am obsessed with crema pasticciera in every respect, whether it is used as a pie filling for the Torta della Nonna, mixed with whipped cream and used to fill layered cakes or introduced into Italian pastries such as cornetti (croissants) or bomboloni.
In Italy, bomboloni are often served in bars for breakfast with a cappuccino and, like cornetti con crema, they are generously filled, so much so that they seem heavy in the hand but are so light and delicious when you take a bite.
INGREDIENTS :
– Bread: 3 cups (all-purpose flour is also good)
– Fast-acting dry yeast: 2 to 1/4 teaspoons
– Salt: 2 teaspoons
– Granulated sugar: 1/4 cup + more for coating
– Lemon: 1 (zesty)
– Egg: 2 (lightly beaten)
– Whole milk: 3/4 cup
– Softened butter: 1/2 stick (about 4 tablespoons)
– Vanilla extract: 1 teaspoon
– Vegetable oil, for frying
– Chocolate and hazelnut spread, jam or custard, for filling
DIRECTIONS :
1. At first, take a large bowl or the bowl of a stand mixer equipped with a dough hook and mix together the flour, yeast, salt, sugar and lemon zest. You will need to add the eggs, milk, butter and vanilla extract, mixing well. You can then knead the dough in the stand mixer or by hand for about 2 minutes, then place it on a floured work surface and knead it for 5 minutes, or until it is smooth and elastic but still quite sticky. Finally, be sure to transfer the dough to a large, lightly oiled bowl. Don't forget to cover it with plastic wrap. And please leave to rise in a warm place until the dough has doubled in volume, about 1 hour.
2. Now roll out the dough with a rolling pin until it reaches a thickness of about 2.5 cm. Then, using a round dough cutter, cut the dough into cup-sized discs. Immediately place the dough on a baking tray lined with baking paper, cover with plastic wrap and leave to rise for another hour.
3. Heat the oil in a large, deep saucepan to 350 F. Then you can fry the fritters in batches, turning them halfway through, until golden brown, about 4 to 5 minutes. Once cooked, remove them with a slotted spoon and drain on paper towels. At this point, dip the fritters in granulated sugar until they are completely covered.
4. Place your favorite topping in a pastry bag with a medium tip. Finally, make a small hole in the side of each doughnut, push in the nozzle and squeeze to fill the bomboloni and serve hot, GOOD!