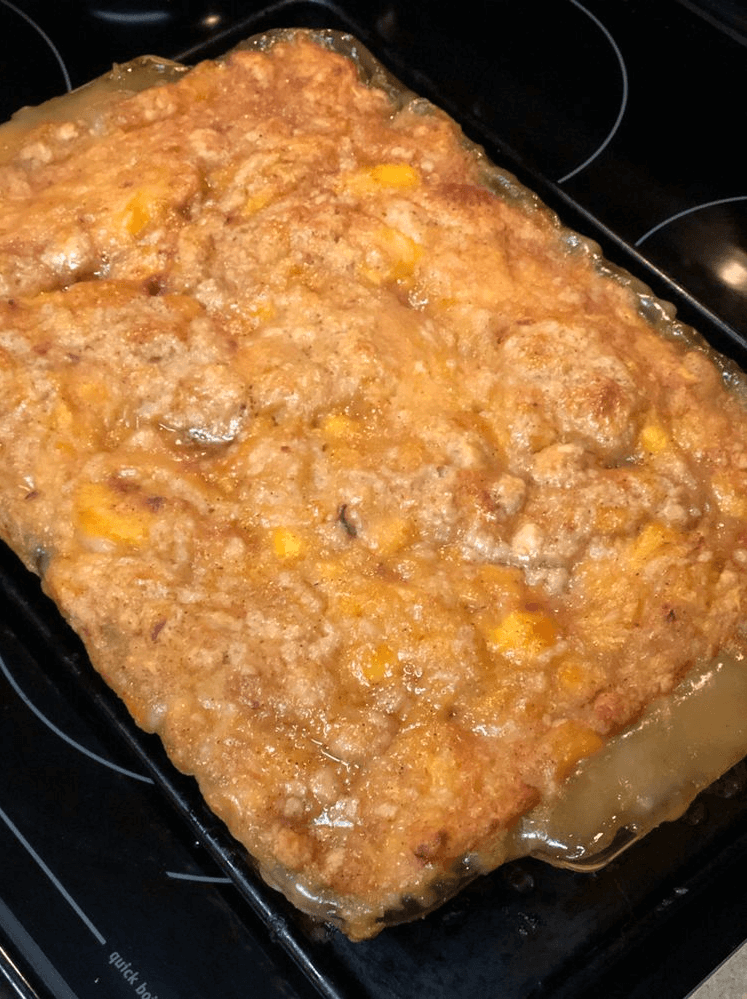 This rich and creamy bread pudding is a truly decadent and comforting dessert.
This has yet to be one of the best bread puddings yet…As a diabetic I altered the condense milk to a cup of lactose free milk with 10 pkgs of splenda…and half the amount of sugar for the carmel…It still was a dream in our mouths.
Awesome…used canned peaches and it was wonderful!
This is a wonderful variation from the plain old bread pudding. I will definitely make it again. The caramel sauce is also great on other desserts.
Amazing! My hubby and I loved this dessert! I added an extra cup of bread and left the crust on. I also used 2 large peaches and diced them up pretty small. And I can't say enough about the sauce – it's to die for!
INGREDIENTS
Filling:
5 cups peaches, peeled and diced, fresh or frozen
2 cups all-purpose flour
1 cup sugar
1 cup whole milk
4 teaspoons baking powder
1 teaspoon sea salt
1 teaspoon cinnamon
1 teaspoon vanilla extract
1/4 teaspoon nutmeg
Topping:
3/4 cup brown sugar
3/4 cup sugar
3 tablespoons unsalted butter
3 cups water
1/2 teaspoon nutmeg
Ice cream/whipped cream/cool whip, optional, garnish
PREPARATION
Preheat oven to 400º F and lightly grease a 9×13-inch baking dish with butter or non-stick spray.
In a large saucepan over medium heat, whisk together brown sugar, sugar and nutmeg, then mix in butter and water and bring to a boil, stirring until sugar is fully dissolved.
Remove from heat and set aside.
In a large bowl, whisk together flour, sugar, baking powder, salt, cinnamon and nutmeg until combined.
Whisk in milk and vanilla extract until smooth, then fold in diced peaches.
Pour filling into greased baking dish, then pour topping on top.
Place in oven and bake for 50-55 minutes, covering with aluminum foil, if necessary, until cooked through.
Remove from oven and let cool 15 minutes before serving.